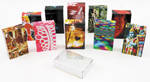 SMOKESTIXX introduces decorative decals for cigarette packs. They are high gloss sticky labels that fit over the pack, not only adding a design, but also protecting the pack from getting wet. There are currently ten different designs, and they are updated every quarter, when new designs are added and others are eliminated. There are designs targeted to men and women. Among them are antique figurines, flaming skulls, pink tiaras, novelty playing cards, and others in bright colors.
The units are offered in sizes for 100s and regulars. The decals can be adapted into two pieces, to accommodate flip top packs as well as regular ones. The minimum order is a master case of 300 decals in an assortment of all ten designs. It includes 100 of the size to fit 100s, and 200 of the size to fit regular packs. It is offered in two countertop displayers, each of which holds up to 150 units. The total wholesale price for the duo of displayers is $105.
That translates to a wholesale price of 35 cents a unit. The suggested retail is between 75 and 99 cents. The objective of the countertop displayers is to encourage salespeople to offer a decal with every pack of cigarettes sold, and to encourage buyers to pick up a different design every time they buy a pack.
For more information:
Smokestixx
311 North Robertson Boulevard, Ste. 371
Beverly Hills, CA 90211
Toll Free: 866-568-8646
Tel.: 323-655-1160
Website: www.smokestixx.com