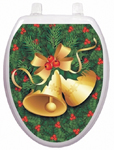 TOILET TATTOOS has developed a line of products that carry the company's name. Toilet tattoos are designed to fit on the top of toilet seats, and they come in about a hundred different designs. They are made of electrostatic vinyl film, and are hygienic, removable and reusable. Because they adhere via electrostatic means, they can be removed without a trace of sticky residue. The vinyl makes them easy to install and clean, they are changeable, and are offered in sizes for both round and elongated seats.
The designs are arranged under a variety of themes. Among those in the Classics category are a leopard print, marble patterns, silver stone designs and a fleur de lis. The company commissioned artists to develop the Artist Canvas category, which contains depictions of frogs in the moonlight, humming birds, deer in the woods and other nature images, as well as a watercolor rendering of an outhouse.
The Wallpaper category contains overall repeats, such as stripes, polka dots and other popular wall coverings themes. There are seasonal and holiday themes, and the product lends itself to changing Toilet Tattoos often, particularly in guest baths and powder rooms. There are also birthday and other fun celebratory designs. Three styles are especially designed to help toilet train tots. One includes 30 stars, and in writing, says, "I will twinkle if you tinkle," and the child or parent can stick dots on stars once the task is accomplished. This also encourages children to put down the seat. The other two designs feature a smile and a rainbow, and they also provide stickers to mark accomplishment.
The minimum order is 36 units, and can be any assortment of designs. In this quantity, the wholesale cost is $3.95. The suggested retail price is $9.95. With an order of 36 units, a retailer receives a free Toilet Tattoos in a design they choose. The company recommends they use this to show the design on a toilet seat, to draw attention to the product. Custom designs are also available.
For more information:
Toilet Tattoos
1039 Riviera Way
Macedonia, OH 44056
Tel.: 330-468-3226
Website: www.toilet-tattoos.com