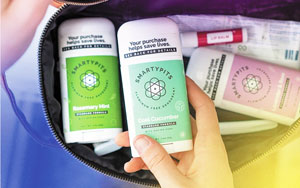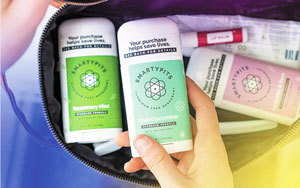 According to Small Business Trends, 69 percent of U.S. entrepreneurs start their businesses at home, and Stacia Guzzo is a part of that statistic. All you need is a little time, money, and a lot of perseverance. Stacia is the founder of SmartyPits, an aluminum-free all-natural deodorant, and she started this idea right on her kitchen stove.
A Cleaner, Healthier Alternative to Deodorant
"I started making deodorant after my mom battled breast cancer," Stacia said. "The cancerous lump was directly underneath her armpit, and her doctors told her at the time that the lump was most likely influenced by something in her environment. I began to research different things that might be linked to breast cancer, and I discovered that aluminum in antiperspirant could be a risk factor in developing breast cancer as well as Alzheimer's Disease."
Even though doctors are still debating causation vs correlation in regard to the risk of the absorption of aluminum, Stacia knew she didn't want to take any chances with her health, and set out to go aluminum-free with her deodorant choice. After coming up dry looking for clean deodorants that actually worked, SmartyPits was born on Stacia's stovetop in 2013.
From The Stovetop to Major Retailers
Stacia started off making batches of 6 deodorants each, and now with the help of manufacturers, she's making thousands at a time. One of the important things when creating her deodorants was listening to customers' feedback. Back then, the formula and texture was very different, but over the years, Stacia has continually tried to take customer feedback into account and eventually came up with the formula the company uses today.
"I had created a deodorant formula for what became a very large natural deodorant company, and could no longer manufacture in-house at the volume they were requesting," Stacia said. "I connected with several different known manufacturers in the industry, and settled on one. That manufacturer tripled in size and became one of the leading manufacturers of natural deodorant in the country."
Before the demand that Stacia is now facing for her deodorants, she started by selling her products at a local farmer's market and some local craft fairs. Even though she was also selling online, sales didn't start to really pick up until word spread from her happy customers. In the beginning, Stacia was also selling other skincare products such as soap, lotions, lip balms, and DIY skincare kits. Because of this, customers would also sometimes pick up a deodorant to try as part of a larger purchase and then keep coming back for more.
Keeping Up With the Competition
Stacia is selling her products in major retailers, and the competition can be pretty strong with other up-and-coming all-natural deodorants. "First, it's important to acknowledge that there is a huge market for natural deodorant," Stacia said. "The domestic antiperspirant market is over $3.3 billion a year, and only 20 percent of that market right now is with natural, aluminum-free deodorant — however, that 20 percent is growing at a rate much higher than the overall market. What that means, in layman's terms, is there is a huge growing market for lots of players. Our growth has already been 10x from three years ago."
There's a vast customer base for all-natural, aluminum-free deodorants. Some customers are going to want the cheaper deal, and others prefer a quality product that glides on smoothly, has innovative scent offerings, and quality ingredients — these are the SmartyPits customers. And when shoppers purchase from SmartPits, they're not just supporting a small business, but they are also contributing to the company's giveback program.
Every large deodorant stick purchased donates $0.30 to City of Hope, a world leader in cancer research. SmartyPits donates directly to the doctors and researchers in their breast cancer program, and through the sales of the company, SmartyPits has been able to raise over $60,000 so far. The company has also donated free deodorants to over 10,000 patients going through chemotherapy and radiation.
New & Exciting Things
SmartyPits is excited to announce a new sustainable line debuting in Q1. This fully biodegradable, completely plastic-free line will be one of the first eco-friendly deodorant lines on the market. To view their current full line of products, you can visit their website at smartypits.com.