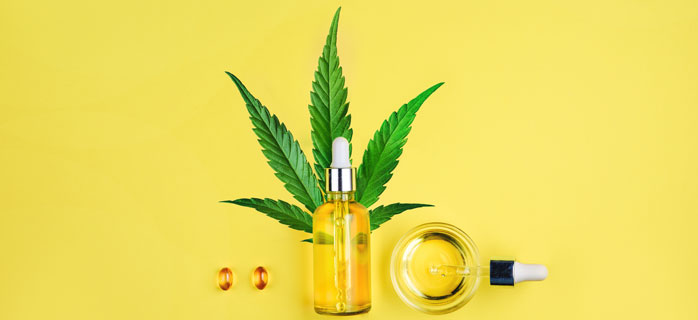 by Bojana Petkovic
CBD, or cannabidiol, is one of the most important active substances in the cannabis plant. It can be obtained from different cannabis species, but it can also be synthetically produced. There are divided opinions on whether it works better on its own or joined with other cannabis compounds, yet one thing is for sure — its positive effects on human and pet health are undeniable, as CBD statistics are clearly showing.
At the moment, only CBD derived from hemp is legal under federal law while we wait for more research on the substance to begin. We can observe CBD as an amazing cure, but we can also watch the changes in the industry. That is one serious venture and a lot of people would like to get a piece of that $20 billion pie (this is the prognosis for US sales of CBD by 2024).
The State of the CBD Industry
14 percent of Americans are using CBD in some form. Hemp extract products like CBD oils, edibles, lotions, etc. present 50 percent of the cannabis market. According to the consumer body, the most used CBD-based products are CBD oils and tinctures (44%), topicals (26%), capsules (22%), and CBD-infused beverages (19%).
In 2017, the U.S. CBD industry touched $367 million in sales across marijuana-derived and hemp-derived markets. The CBD industry is expected to reach $2.1 billion by 2020, which is a 700 percent increase from today. By 2022, U.S. hemp-based CBD sales are expected to come from the internet or other direct (41%), natural and specialty retail (28%), practitioner (20%), smoke shops (9%), and mass market retail (2%).
The collective market for CBD sales in the U.S. should surpass $20 billion by 2025. The U.S. remains the biggest importer of hemp products in the world. In 2017, the import decreased by 57 percent compared to 2016. In the first half of 2018, the import decreased by 20 percent.
The CBD Oil Market
In 2017, the CBD oil market reached $190 million worth of sales. In 2018, the U.S. sales of CBD and hemp oil products reached $238 million, which is a 57% increase compared to the previous year. The global CBD oil market is forecasted to grow at a CAGR (Compound Annual Growth Rate) of 39 percent between 2017 and 2021.
The CBD Pet Supplies Market
This is one of the fastest growing sectors of the CBD market. Most CBD-infused pet and animal product sales mainly occur online because traditional mass-market pet retailers have yet to begin carrying the products. While traditional dog or cat products currently dominate the market, we can expect supplies targeted for horses and other domesticated animals to enter the marketplace as well. CBD pet and animal goods sales are expected to reach $125 million by 2022, representing a 5-year CAGR of 57 percent.
Cannabis-Infused & CBD Beverage Market
In 2018, the U.S. market for cannabis, CBD and hemp-infused drinks gained $89 million in sales. The U.S. market for CBD and THC drinks could reach $600 million by 2022. In 2024, the CBD and hemp-infused drinks market worth will grow over $1.4 billion.
CBD's Legal Status
Uruguay was the first country in the world to completely legalize cannabis and cannabis-based products. Canada fully legalized cannabis in 2018, which makes it the second country to do so. Since December of 2018, when the Agriculture Improvement Act was passed, hemp CBD extracts have been made legal in the U.S.
CBD Industry Trends & Predictions
CBD beverages are definitely a thing nowadays. This is a huge opportunity for new, innovative companies. With growing demand, the prices of hemp-extract products will continue to decrease in 2019. 2018 was a big year for massive waves of information circulating to the general public from all media outlets about CBD. These products will continue to be accessible in mass retail outlets such as pharmacy chains and department stores, and beauty stores.
With more CBD-infused foods and beverages entering the market, interest and awareness will continue to grow in the future. It is expected that new, true brands will form in the future. These brands will start a production which will be far more consistent than it is today. Surely, at some point in the future, consumers will demand that the FDA establish clear regulations and rules in order to know exactly what they are buying. It is also expected that the CBD industry will increase its job development by 21 percent by 2022.
This information was provided by Loud Cloud Health.