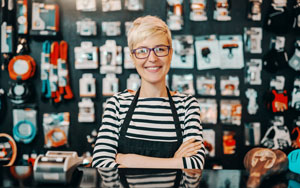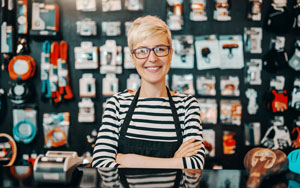 by Jeff Hastings
Ever since the dawn of the big box store in 1962 (the year Walmart, Kmart and Target all opened their doors), smaller local businesses have struggled to compete. On Chicago's West Side, for example, 82 local stores went out of business after Walmart moved into the neighborhood in 2006. The big box stores' promise of growing the local economy and bringing new jobs turned out to be Walmart just devouring the local economy altogether, resulting in no net growth in economic activity and an estimated 300 retail jobs lost in neighboring zip codes.
Fast-forward to 2019 and the picture is far less rosy for the big boxes. Store closings are rampant, some iconic retailers are fighting for survival (Sears) and others have gone out of business entirely (Toys 'R Us). Despite this, big box stores still represent significant competition in the eyes of small businesses. Below, we take a few lessons from the decline of the big box store and explore tactics that small businesses can use to provide a retail experience that the big box stores simply can't replicate.
Leverage Your Local Niche
One of the biggest differences between big box stores and small, local businesses is that big box stores are built on a business model that requires them to order large quantities of every product they carry. On top of that, their success depends on being the one-stop shop for everyone around them, requiring them to offer thousands of products to appeal to the masses they want to earn, and keep, as customers.
This often results in stocking generic products made in bulk overseas and leaves little room for bringing in new, locally made products to offer repeat customers. This is something small businesses can take advantage of by offering customers something they can't get at the big box store down the street. Many small businesses work with local artists and retailers to find unique products made in smaller batches. Being the exclusive retailer for a line of original products is a great way to encourage repeat customers interested in niche goods and gifts that are unique and harder to find.
Ecommerce is King
A retail brand's online presence is arguably the most important piece of the puzzle in today's retail landscape. Consumers expect retail brands to offer convenient online shopping options that are optimized for use on any digital device. The easier your products are for consumers to access any time, any place, the more likely you are to succeed in growing your customer base and earning multiple purchases from loyal customers over time.
At minimum, small and independent retailers should have a well-designed, easy-to-use ecommerce website that is optimized for mobile browsing and shopping. Great platforms for this purpose are Squarespace or Shopify. It should be populated with high-quality images, information about your company and brand, an easy way for site visitors to get in contact with you and details about your physical locations and hours (if applicable).
Get Social
Aside from your ecommerce website, a social media presence has become a crucial aspect of retail success. A small business should plan its social media posts and presence with as much care as they do their brick-and-mortar merchandising strategy. Your online aesthetic should match your physical presence to give customers a strong sense of who you are.
Beyond just posting images and deals to their social media accounts, retail stores have also begun adapting their physical locations into social-media-friendly spaces, encouraging shoppers to take pictures or "check in" to share their location and experience in stores with friends and followers. The goal of this fun, low-cost strategy — often called "omnipresence" — is to encourage your shoppers to share the love with fun posts that connect you to their social circle.
Customer Service is Key
As well as product offerings and merchandising, the service and experience you and your sales team provide to your customers will set you apart from those big box competitors. For large and small businesses alike, impersonal interactions, complicated communication avenues and red tape for customers are business killers.
Be sure that your return and exchange policy is clearly displayed in-store and online. Be friendly and personable when someone does have a problem with a purchase and try to find a solution that will leave the customer satisfied in the end.
Memorable Merchandising
Part of the big box business plan is to build the same store over and over again in different locations. The branding, signage and layouts have to be consistent across dozens, hundreds or even thousands of stores to ensure that consumers recognize the store and feel comfortable there.
While big box store design is often directed by headquarters, small businesses have greater freedom to let their creativity flourish. Using custom retail displays to showcase your products, regularly updating front window displays and using custom signware are just some of the ways that small businesses can emphasize their brand's uniqueness.
Finding the Right Partners
So how can a small business stay within its budget while also ensuring that it's merchandising doesn't go stale? One important way is by finding an experienced partner to help make your merchandising visions a reality. The right partner is one that understands a small business' needs, challenges and budget restrictions, including the need to have versatile retail displays that help bring out your merchandising creativity.
You should aim to connect with an experienced visual merchandising partner who works to understand you and your customers — one who can help you define your vision and then design retail fixtures, furnishings and signware to your exact specifications and needs — all in the service of helping your unique small business shine.

Jeff is the Chief Marketing Officer for Visual Creations, Inc., which is a full-service provider of cost-effective, custom fixtures, furniture, millwork and signware solutions. A retail merchandising and marketing veteran, Jeff has over a decade of retail design experience, knowledge and insight from serving as the Senior Director of Retail Design, Director of Visual Merchandising and Senior Marketing Director for multiple retail and graphic companies across the United States.