by Kristin Savage
Email marketing is dead… Or is it? Over the past few years, we've seen many authoritative resources claim that we should stop investing our money in email marketing. MarTechSeries, an online marketing trends magazine, for instance, claims that email marketing is the most unreliable strategy due to many reasons, namely:
It's susceptible to hacker attacks and phishing
It doesn't deliver as good results as social media marketing
Users, in general, respond better to other types of marketing and are tired of email bombarding
Email Marketing Is Still On Top
While these are some of the drawbacks of email marketing, you can't argue with the statistics (which mostly speak in favor of email marketing, especially for ecommerce). According to SaleCycle, 73 percent of companies rank email marketing channel as 'excellent', which puts it in the first place, followed by SEO, paid search, content marketing, and social media.
Ecommerce brands, especially fashion ecommerce, all speak in favor of growing email marketing lists, saying that their emails often have open rates as high as 43.15 percent and click-through rates as high as 31.34 percent. These numbers definitely support the idea that it is still absolutely vital for ecommerce brands to grow their email lists to reach wider audiences.
What are the best techniques to do that? Let's take a look.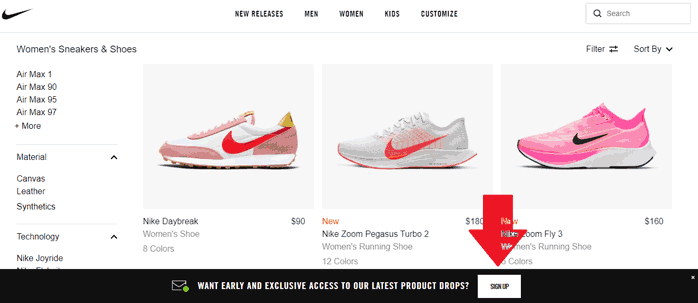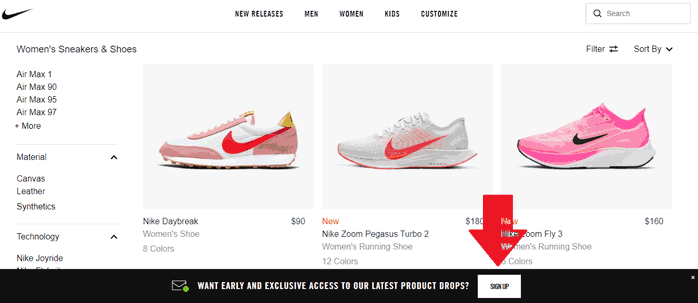 Grow Your Email List Through Sign-Up Forms
Nike has been using sign-up forms on its website since forever. Today, as you go to their website to check their merch, you will get a small pop-up that looks like this:

By giving you this offer, Nike is inviting you to their closed 'Nike Fans' club, and, as a result, you will get an email like this:
If Nike is still using this method, it means that it brings them a lot of benefits, namely, by helping them grow their email list. Creating sign-up forms is one of the essential steps in building an effective email marketing campaign. Sign-up forms don't necessarily come in the form of pop-ups. They can be static bottom-of-the-page notifications, which is a less invasive form of notifying your visitors that you have a special offer for them.
There are plenty of ideas for a sign-up form, depending on the message you want to spread:
Offering a discount
Offering a membership
Offering free access to the service for a certain period of time
The idea is to create a sign-up form that will speak to your visitor's intentions when visiting your website.
Master the Art of Pop-Ups
WP Forms does an excellent job inviting its visitors to share their emails by using a pop-up. When you enter their website, you get an interactive notification with an offer to participate in a lottery game and win exclusive access to their product in exchange for your email: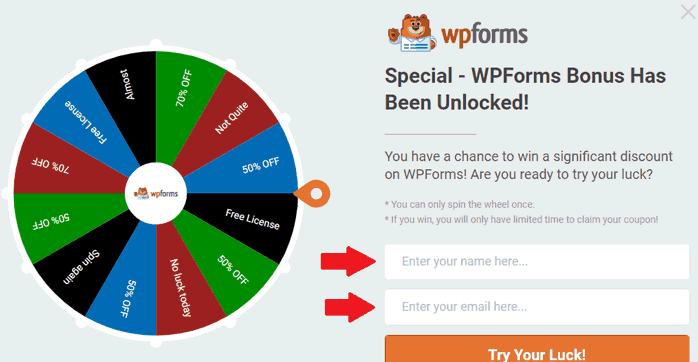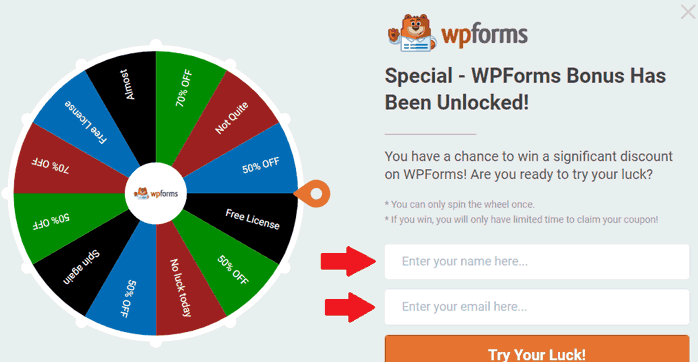 This website pop-up works the same way as a sign-up form we talked about in the previous section. However, it is a bit more invasive than a simple sign-up form, and that is why many people don't like pop-ups.
Multiple research shows that people don't usually respond well to pop-ups. "Pop-ups top our list of the most annoying form of online ads, as in our research 89 percent of respondents expressed their negative attitude towards this form of advertisement," said Martin Jefferson, a researcher at Subjecto. "The most annoying part is that a pop-up usually blocks content or appears too fast."
So, if you go with a pop-up to grow your email list, what should you do to make it right?
Don't try to mislead your visitors. When offering them something, stick to your offer and don't trick them into entering their email just for the sake of collecting it. Not getting their emails is better than getting your emails marked as spam afterward.
Adjust the time when your pop-up appears. Don't make it appear right away when your visitor gets on your website. Give them time to scroll your website to about 25 percent before they see a pop-up.
Avoid using autoplay for pop-up videos. According to Vieodesign, 82 percent of people say they usually close a webpage if an autoplaying video pops up. It is better to avoid pop-up videos at all, as they typically take too much time to load.
Pop-ups are still a widespread way to help an e-commerce brand grow the email list, with quite high conversion rates and a positive response in general, if you do them right.
Ask for Emails During Check-Out
A policy for many streaming services is to make visitors share their emails before giving them access to their product. For instance, on Hulu, after you choose your plan, you have to create your account before proceeding to checkout. And, of course, this involves sharing your email.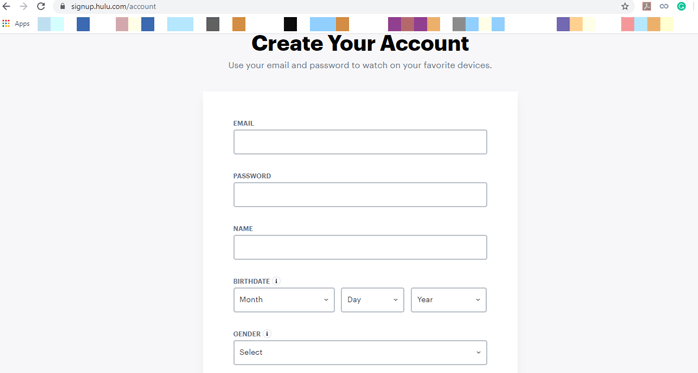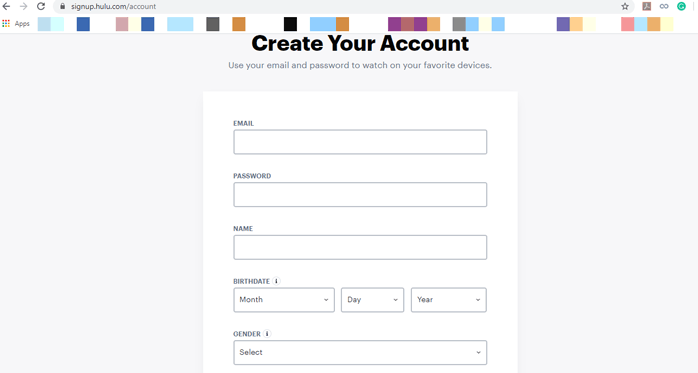 However, while for Hulu it's a required procedure to share your email just to make sure the person paying for the service is the one who's actually using it, some companies have abused this method of growing the email list and sending spam messages to their customers.
So, if you do use this way of growing your email list, make sure you do it right. One of the best ways is to explain why you actually need your customer's email.
For instance, you can say that you require a customer's email to send them the information about their order, or that you will send order tracking link. You can also require an email to confirm the order and to send follow-up messages with the information on order delays or how your customer can deal with shipping problems. Be honest with your customers and they will be more inclined to share their personal information with you.
Enjoy the Benefits of Email Marketing
Email is not dead, it's just evolving. For sure, one of the reasons why people consider email marketing dead is that it can be quite invasive and spammy. That's why many consumers are cautious about who they share their email with.
The ways to grow your email list that we shared with you are quite widespread, but if you do them wrong, you may get a reputation as a spammer, which will cause customers to remove themselves from your email list. Hopefully, our tips will help you get your email marketing efforts right and effectively grow your email list.
Kristin Savage nourishes, sparks and empowers using the magic of a word. Along with pursuing her degree in Creative Writing, Kristin was gaining experience in the publishing industry, with expertise in marketing strategy for publishers and authors. Now she works as a freelance writer at TopEssayWriting. Kristin runs her own blog.