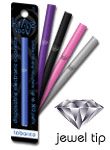 Vapor Corp., a South Florida based electronic cigarette (e-cig) supplier and marketer, was founded by a team of veteran entrepreneurs with extensive experience, ranging from product and brand development to manufacturing and sales of various consumer products. Now as a leading and publicly traded (OTCBB: VPCO) electronic cigarette distributor, the company sells its e-cig vaporizers internationally and domestically to wholesalers, directly to online consumers, as well as to convenient stores, tobacco shops, kiosks and many super markets and chain stores. The electronic cigarettes alternative has rapidly become popular amongst the smoking community, with the promise of eliminating odor and second-hand smoke, as well as the harmful chemicals found in traditional cigarettes.
Vapor Corp. offers its e-cig vaporizers in two forms: rechargeable e-cigarettes and disposable e-cigarettes. Among its brands, Smoke Fifty-One, Krave and Green Puffer are some of the most popular. Adam Frija, director of business development, explains the science behind electronic cigarettes, saying, "Electronic cigarettes are electronic devices, the functional elements of which are integrated into a stainless steel shell, and include a small plastic cartridge that contains an absorbent material moistened with a propylene-glycol liquid solution." That liquid solution may or may not contain nicotine, tobacco flavoring or other flavor essences. Also incorporated in the design is an electronic airflow sensor, a heating element, which vaporizes the liquid in the mouthpiece so that it can be inhaled, and a rechargeable lithium ion battery, which powers the device.
The difference between rechargeable and disposable electronic cigarettes can be explained best in the comparison of brands, Smoke Fifty-One and Krave. For smokers who want to try an e-cig without committing to the rechargeable version, Vapor Corp. manufactures the Krave 500 and Krave 300, disposable versions, which are good for up to 500 and 300 puffs respectively. Frija emphasizes, "They're ready to enjoy right out of the pack. Once a user is done with a Krave electronic cigarette, they simply dispose of the unit." These disposable units retail anywhere between $9.99 to $12.99, but can be purchased at a wholesale price of $4 to $5.50, depending on order volume. Smoke Fifty-One, on the other hand, a rechargeable alternative for those smokers committed to the electronic cigarette, can be purchased at $25 to $35 wholesale, and retail between $80 to an excess of $100. Unlike the disposable vaporizers, Smoke Fifty-One e-cigs are offered as a starter kit that includes the unit, charger, battery and filters.
Among its offers, Vapor Corp. does not require a minimum order as it is looking to provide product to any and all customers regardless of their size, but volume tiered pricing is available. A variety of POP displays are available, with recommended placement near or at the register. Most importantly, with increased popularity in the electronic cigarette, Vapor Corp. provides excellent customer support, efficient delivery of product, as well as a lifetime warranty on product replacement.
For more information:
Vapor Corp
Address 3001 Griffin Road, Ft. Lauderdale, FL 33312-5649
Tel:1-888-SMOKE-51
Website: www.vapor-corp.com