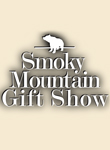 The Smoky Mountain Gift Show brings Tennessee's largest selection of top-name souvenirs, resort gift lines, and innovative tourism products together under one roof for optimum buying convenience. Only in Gatlinburg will you have an opportunity to shop an unrivaled selection of top name lines and new products from hundreds of leading manufacturers and innovative newcomers in the souvenir, resort and gift industry.
52 Years Strong – Known for What's New
The Smoky Mountain Gift Show is the retailer's resource for the best names in the business. Gatlinburg is the place to see the newest introductions and best–selling favorites, including: Nature & Wildlife Products, Green & Conservation Merchandise, Apparel & Clothing, Home Accessories, Lifestyle Products, Gourmet Foods, Lake, Mountain & Lodge Décor, Made in the USA Products, Souvenir, Novelty & Trend Items, Collegiate Merchandise, Games, Puzzles & Toys, Holiday & Seasonal Items, Jewelry, Licensed Products, Custom Logo Products & Promotional Items, and Personalized Products.
Social Media Savvy
Buyer relations director Amy Dufor recommends retailers utilize social media before, during, and after the show to make the most out of the buying experience. "Search for exhibitors you know you want to see on Facebook prior to the show — you never know if they might be offering a show special you can take advantage of via social media," says Dufor. "Utilize the show hashtag #smokymtgift to find key exhibitors you'll want to visit on-site."
Also be sure to follow Smoky Mountain Gift on Facebook and Twitter so you don't miss out on any seminars, giveaways or must-see exhibitors. Like, comment and share show posts and exhibitor posts pre-show, at the show and after-show. Dufor says, "Generating engagement will lead to more awareness of your own business pages. Take and share photos of your show experience; your own followers will want to see how much fun you're having live, on-site!"
Tricks of the Tradeshow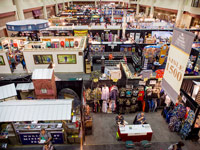 Dufor shares the following tips for retailers:
1. Avoid the Lines. Take advantage of early and online registration. Make sure you are registered and have printed out your ExpressPass ™ to gain quick and easy entrance into the show.
2. Set appointments. The show floor can get busy. Reach out to your top vendors ahead of time to make sure you can have their undivided attention.
3. Divide and Conquer. To maximize your time at the show, vendors are categorized into distinct product sectors for easy reference. Meet back up and discuss what each of you found and decide what orders you plan to make.
4. Learn to Earn. Attend the free educational seminars. Take the time in your busy buying schedule to attend the free educational seminars, covering a range of topics from marketing and merchandising to social media and customer service. These sessions are sure to help you grow your business.
5. Network. Talk to other retailers to see what is trending in their stores. Speak with them about what's working and what's not. You can learn anything from trending products to management techniques. Help each other out!
The 2017 Smoky Mountain Gift Show is November 1st – 4th at the Gatlinburg Convention Center in Gatlinburg, Tennessee. The trade-only event is free for qualified retailers. For more information visit www.smokymtngiftshow.com.