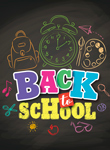 The National Retail Federation announced on July 13th that back to college spending is to reach an all-time high this year, while back to school spending is expected to see its second-highest spending level on record. Altogether, sales are expected to total $83.6 billion. This number is up more than 10 percent from last year's total back to school and back to college spending, which reached $75.8 billion.
NRF president Matthew Shay says this growth is a result of a stronger economy, confident consumers, and an advancing industry. "Our industry is in the midst of major transformation, driven by technology, social media, and ultimately driven by consumers." Shay continues that many of these changes include growth in job creation and greater opportunity for the creation of new businesses, which is ultimately better for consumers.
Ellen Davis, senior vice president, research and strategic initiatives for the National Retail Federation explains that recently, consumers are in a much better economic position. Davis reports that younger parents ages 25 – 34 are outspending the average back to school shopper by $120. Back to college shoppers will spend on average $970, up from $889 in 2016. Davis attributes this to increased college enrollment and more students moving away from home than before.
Back to school is a critical time for retail for several reasons. Carol Lapidus, national leader, consumer products industry at RSM tells Independent Retailer, "Back to school accounts for 15 – 20 percent of total retail sales for the year. It is second to only the holiday season." That means for many retailers, having a successful back to school season is critical to meeting annual revenue goals.
Additionally, with the holiday season right around the corner, back to school serves as a test-run for many retailers trying different operational, customer experience, or marketing strategies. For example, Walmart® is strengthening their efforts by adding more associates called "Back-to-School Helpers," expanding their items available for in-store pickup, and integrating teacher wish lists into their website. Eliminating friction from the shopper experience and building consumer trust now will not only help boost your back to school sales but also leave your company in a prime position for shoppers to return for their holiday buying. Here are some tips to attract, engage, and retain shoppers this back to school season.
One Stop Shop
Mass merchants are slowly beating out department stores for back to school sales. Consumers are looking to buy all their supplies in one place instead of circling malls or driving across town. Back to school shopping is by nature a stressful experience. Parents are battling crowds and long lines, toting around impatient children, and trying to stay on budget without forgetting anything. Independent retailers can appeal to local parents by making sure your store is a one-stop shop.
Convenience
In addition to offering a wide product selection, make the act of purchasing and fulfillment easy and flexible. This means offering as many different solutions as possible. Traditional in-store sales, online orders, buy online with in-store pickup, call-ahead orders, curbside pickup, whatever it takes to make buying effortless for busy parents. Larger retailers have the technology to roll out many different strategies, but independents have the ability to adapt to different situations and add a personal touch for different customers.
Digital Data
Carol Lapidus tells Independent Retailer, a large part of convenience for back to school comes down to having a digital presence. Whether ordering online, scoping out prices, or checking to see if something is in stock before heading to the store, parents and college shoppers need this information easily available. Lapidus concludes it's not about having digital or brick and mortar, but having both and making sure they work together. Though the percentage of ecommerce sales are rising, they still only make up a fraction of total spending, meaning most purchases are still made in-store
Community Ties
The personal touch is where community retailers really shine. Make your store an integral part of back to school readiness by partnering with local schools to get teacher supply lists, support school fundraisers, and advertise community events. If you have the official teacher supply lists, let parents call or email with the teacher names and work off of the lists to have the order ready for pickup. Offer a discount for parents who purchase the entire list, or consider donating a portion of sales back to the school. Also consider partnering with local tutors, after school programs, sports groups, and other children's activities to offer information and sign-ups at your store. These extra mile services add a personal touch that chain and mass merchant retailers can't compete with.