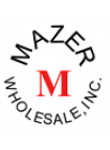 Back to school sales are expected to hit $29.5 billion this year. The total climbs to $83.6 billion when combined with back to college shopping. Almost 70 percent of back to school shoppers plan to make their purchases less than four weeks before classes start. This means it is not too late to restock on classroom staples and fill your shelves for the back to school rush.
Mazer Wholesale offers complete lines of notebooks, binders, and "lots of stuff for the youngsters," says Andrew Mazer of Mazer Wholesale. "Our focus is on a full line of excellent quality carded products such as pens, pencils, markers, calculators and all the things which would be used by students from middle school through college and even in the office."
Celebrating their 32nd year of business, Mazer Wholesale has a reputation for low prices and high quality. This means as a retailer, you can compete with dollar stores when needed and enjoy high margins year-round. "Our stationery line is low in price but the quality is much higher than that of your typical imported goods," explains Andrew. "In the past few years, we have associated with sources with higher quality products and superior packaging, which makes retailers very happy. Everybody wins when the goods are presented well on display. The consumer gets a good price and the retailer makes a good margin."
New for this year, Mazer Wholesale also offers several lines of colorful, durable, and affordable wholesale backpacks. "We have a fantastic selection of great looking backpacks this season," says Andrew. Mazer Wholesale offers low order minimums and free delivery for qualifying orders. Additional discounts may be available for larger bulk orders. For more information visit www.MazerWholesale.com or call (800) 343 – 0780.