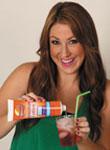 The ultimate in BYOB, Smuggle Your Booze is a line of hot new products for party, novelty and gift retailers. These flasks, cleverly disguised as a tube of sunscreen, tampons, and a soft bag, enable people to bring alcoholic beverages to various events. Company co-owners Jane Cusick and Debbie Mende developed the products to help consumers avoid paying exorbitant prices for alcoholic beverages at festivals, sporting events, cruises, bachelorette parties, concerts, and other venues.
Sunscreen flask & more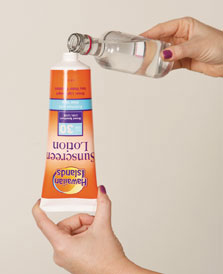 The firm's introductory product, the flask that looks like sunscreen, holds nine ounces of liquid. It is made of plastic that is beverage safe, nontoxic and will not peel. "We designed the lid so that it screws on tight and will not leak, and is easy to fill and pour," Mende explains. "It gets in anywhere and saves consumers lots of money. Women carry everything in their purses, so no one questions why they have sunscreen."
The tampon flask, or "booze tube," is packaged with five reusable tubes, and five wrappers created of plastic that is also beverage safe. Each unit holds a little under a shot. "They can go anywhere, because no one messes with a tampon," Mende points out. Mende and Cusick also created a soft flask that holds four ounces and comes in a four-pack. "A woman can put one in each side of her bra, and men often put them in their skivvies, boots or pockets. We have two more really fun ways to smuggle booze that we are introducing at the ASD show in March," Mende reveals. Each Smuggle Your Booze product typically retails for $10.99. "It's an impulse buy, and people often get them for themselves and other people. They are great gifts and party favors. Our buyers are shocked at how fast they sell," Mende adds. The company has a 90 percent reorder rate.
Save time & money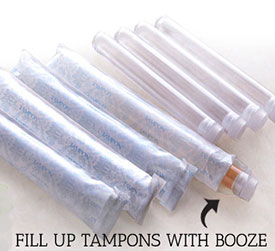 "Our products are about saving people money so they can afford to go to different events," Mende continues. "Right now people are spending $150 for a concert ticket, and then spending $17 for a drink." Smuggle Your Booze also helps people avoid waiting in long concession lines. "If you are at a game or concert and you go to get a drink, ultimately you miss the play of the day or half the concert. Smuggle Your Booze lets you sit there and enjoy your drink, and not miss part of the event." Mende suggests users purchase a mixer at the venue and then pour in the alcohol, rather than drink openly from the flask. "Our Facebook page has lots of information. People tell stories and send pictures of where they have taken the products," Mende reports. The minimum order is 24 pieces, but the ASD show special will be one dozen. Contact the company for wholesale pricing, or visit them at ASD Las Vegas, March 16-19.
Smuggle Your Booze
Tel.: 760-683-9236
Website: smuggleyourbooze.com
Facebook: facebook.com/smuggleyourbooze
ASD Booth SL2111