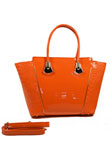 Hua Fu International Trading Corporation, launched in 1997 in New York City, wholesales women's handbags, scarves, sunglasses and wallets. "Nothing is more important to our business than a satisfied customer, so all our bags and accessories are made of the highest quality materials and workmanship," says Erxi Chen, owner.
Hua Fu continually expands its line, and recently added several new bags in trendy colors such as purple and orange. The firm also has the hip three-in-one bags available in multiple styles and colors. "The three-in-one bags, also known as a bag-in-a-bag, are really popular right now," Chen declares. "These bags can be used as a tote, and have a compartment inside that can be taken out." Three-in-one bags come with a long strap that can be put on either the large or small bag so they can be used as crossbody bags. "The larger bags are big enough that women can throw everything in them, from sunglasses to iPads, and they are great for work," Chen points out. Each bag includes an extra pouch for smaller items such as keys that can be used as a wristlet. Wholesale is from $15 to $19, and retail is double to triple wholesale.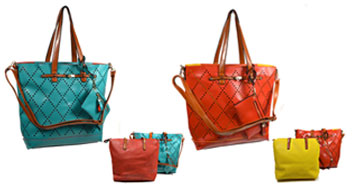 "Our two tone bags also continue to sell well and, in the coming months, lightweight, silky soft scarves in a variety of prints, such as Chevron, will be top sellers," according to Chen. For spring and summer, Hua Fu is also introducing a new line of around 200 pieces of costume jewelry in casual styles as well as with semi-precious stones, which will wholesale for around $3 to $10 apiece.
Specials, coupons and notifications
"We invite merchants to visit our website to see our current inventory and place orders," Chen adds. The website also has online specials of up to 80 percent off their regular wholesale prices on certain items. Retailers can also subscribe to Hua Fu's mailing list, and receive new arrival notifications and sale promotions. If retailers "Like" the company on Facebook, they will get exclusive coupons. While many customers order online, others also enjoy the opportunity to visit the company's Sixth Avenue showroom. "We are open seven days a week from 9 a.m. to 6 p.m., so it is really convenient for our customers to shop with us," Chen asserts. The minimum order is $50, volume discounts are available, and Hua Fu usually ships orders the same day.
Hua Fu International Trading Corporation
875 6th Ave.
New York, NY 10001
Tel: 718-264-0888
Website: www.huafu.org