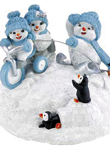 While many people are enjoying the crisp, new days of fall, wholesalers and retailers are getting the first glimpse of the winter season, as they add holiday themed kitchenware, ornaments and giftware to their inventory. To ensure record sales, especially when competing with big box retailers' extensive lines of discounted holiday decorations and merchandise, independent retailers are best advised to stock their shelves with unique items for the holiday season. Keeping this in mind, wholesale supplier, Midwestern Wholesale, offers a large selection of holiday products. "Our holiday products are best-selling items that cannot be bought at the large retail department stores. They are specifically marketed to the smaller retail shop owners, for selling to their customers," says company owner, Laura Clark.
Fun and Functional Seasonal Merchandise for All Shoppers
Family owned Midwestern Wholesale has been in the wholesale business since 2007, after a short stint in retail in 2004. "Our mission is to offer the best prices to both retailers and the general public," Clark emphasizes, whether it be via everyday products or Christmas-themed merchandise. Currently carrying more than 2,500 skus, Midwestern Wholesale specializes in unique and hard to find items, and forecasts a good response to its up-and-coming holiday lines, including kitchenware, ornaments and stockings. "Kitchenware is perhaps the most popular holiday line, followed by any snowmen themed merchandise. It is hard to predict what will be popular this season, but last year, retailers and their customers couldn't get enough of the Snow Buddies," Clark notes. Snow Buddies, collectible snowman inspired figurines, range anywhere from $5 to $26 wholesale and retail for keystone or more. The collection of snow covered houses, cars and citizen snowmen create a winter wonderland town. Other traditional best selling items include the wholesale supplier's boxed ornament sets, a 12 set of themed ornaments for $10.92 wholesale, with a suggested retail price of $24.95.
Midwestern Wholesale is famous for its dedicated customer service, with live customer support seven days a week. "We believe it's of utmost importance that our customers have an easy, no-nonsense way to contact our company," Clark says, "where they can talk to a human being and get answers to their questions immediately, instead of having to wait hours or even days for an email answer." For retailers seeking the best possible prices, the company will also provide custom discounted price quotes over the phone for volume purchases. "There's no minimum order to deal with us, and never a membership fee to become a customer," Clark notes. "With new products coming in frequently, we advise everyone to check our site on an ongoing basis."
For more information:
Midwestern Wholesale
444 E. Roosevelt Road, #270
Lombard, IL 60148
Toll Free: 800-931-7503
Website: www.midwesternwholesale.com