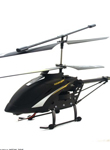 The rapid advancement of technology has blurred the line between children's toys and grown-up gadgets. Electronic goods, which were once considered exclusive adult products, are now trickling down to the younger generation, including iPods, cell phones, and digital video recorders. Profiting from this technology trend are wholesale toy suppliers and the retailers buying from them. A direct importer of advanced toys for the past four years, My Toy Wonders wholesales battery operated and remote-controlled (RC) toys, especially RC helicopters. "We sell everything from mini to extra large-sized helicopters. Minis are our best sellers as they are durable, charge fast, and are easy to operate, especially for the younger ages. Our larger helicopters are a little more advanced, with a targeted age of 14 years and up," says president of My Toy Wonders, Zack Yildirim.
Hi-tech Toys for Children and Adults
However, the company's prized line, RC Camera Helicopters, are medium in size, technologically stimulating, and a favorite for the whole family. "We launched the new line in March, and they are our main focus for this year," Yildirim emphasizes. "We're going to have many styles this coming holiday season. Right now we have two styles available, and we'll have another two or more by mid October." All inclusive, the RC Camera Helicopter is preassembled for immediate flight and comes with a 1 GB SD card for capturing images, and a gyroscope function to stabilize the helicopter in air. "The video camera is the real intrigue of this product. It can record for as long as the helicopter can fly, without needing a charge. And while the recording is not HD quality, it is very good quality and can easily be downloaded and watched on any PC or laptop," notes Yildirim.
Buying direct from factories overseas provides My Toy Wonders with low costs that are then passed on to buyers. Models wholesaling for less than $20 dollars, and the RC Camera Helicopters available for $70 and $90 wholesale, can be expected to retail for keystone and triple the purchase price. All products are authenticated by My Toy Wonders branded packaging, a decision made by Yildirim  as he tries to protect his customers from frauds on the market. Other benefits retailers can expect when doing business with this West Coast wholesaler include monthly specials regularly updated online, no minimum requirements (except for a one case minimum during the holiday season), mix and match orders, and fast shipping. "If orders are placed by 1PM PST, we will ship a customer's packages the same day," says Yildirim.
By raising the level of hi-tech development and reducing the size of fun products, toy manufacturers have not only mesmerized children but also titillated adults with alluring and sophisticated playthings. While durability and capability will continue to advance for toys like RC helicopters, there is a reality that every pilot must face. "These are items that fly thousands of feet in the sky, and accidents happen. If a helicopter should fall from flight, there is a chance that it could break, and that is just the reality," Yildirim says. "But this is why I have invested in carrying the parts for my helicopters." With parts available to retailers, additional sales can be made for customers looking to repair their toys and correct any unfortunate accidents. Parts such as blades, engines and motors can also be found at My Toy Wonders' wholesale site, www.wholesale-rc-helicopters.com.
For more information:
My Toy Wonders/Wholesale RC Helicopters
472 E. 4th St., Los Angeles, CA 90013
Tel.: 213-628-2000
Websites: www.wholesale-rc-helicopters.com