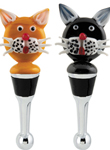 Looking to stand apart from big box retailers, especially for sales of gifts and souvenirs, independent retailers are selective when it comes to adding to their inventory. It is the high quality and unique nature of an independent retailer's merchandise that draws customer interest, compared to the everyday giftware available on competing chain store shelves. In a fragile economy, everyone is looking for an advantage in the marketplace, and the survival of any business catering to the giftware market is based on its ability to supply unique and functional items at discounted prices. Matthew Ferguson of LS Arts, a glass giftware wholesaler, notes, "All our merchandise wholesales for under $10, averaging around $4 to $6 wholesale. Retailers, however, can expect a 100 percent markup, and sometimes a 200 to 300 percent markup, while still meeting customers' preferred price points." And while Ferguson reveals a pricing advantage for all parties involved, it is LS Arts' retailers who can't speak highly enough about the company's unique, high quality products and refreshing customer service.
Glass Giftware Fit for Many Retailers
LS Arts has spent the last 15 years tailoring its product lines for the 3,000 independent retail stores which it now supplies. Introduced to LS Arts glass giftware by chance, Jean Dryden, owner of Glass Workbench, is one of these 3,000 retail stores. "I first found out about LS Arts on my honeymoon, 10 years ago, at a souvenir and gift shop. I snuck a tag to follow up later for my store," she says. Catering to tourists in the St. Charles, MO area since 1975, Glass Workbench is a frequented brick and mortar storefront among locals as well. The retail shop began as a stained glass and hobby store, but as tourism continued to grow in the riverfront town of St. Charles, Dryden found a niche for glass giftware, and turned to LS Arts as a one-stop supplier for a majority of her glass giftware needs. "We carry their glass jewelry, figurines, wine bottle stoppers, paper weights and much more from their catalog," she notes. "I haven't had trouble selling any of their products, and in fact I have to place a new order monthly to keep up with customer demand."
Some of the top selling items to pass through Glass Workbench are LS Arts' fun but functional purse hooks, wine charms and ornamental glass Christmas trees. "The Christmas trees are popular among my customers, and I love LS Arts' Christmas items, because if I order early enough before the holiday season, I can expect some type of discount on my purchase," says Dryden. "The company also ships quickly and without any hassle." As Dryden is enthusiastic to mention, LS Arts has really tailored to her needs in a tough economy by keeping its best selling items available at a reasonable price, but also by keeping its lines fresh with new items and designs. With the help of LS Arts, Dryden has been able to keep the interest of her large local customer base, and now offers a loyalty program called the Art Glass Club, in which six purchases reward the customer with a store credit worth 10 percent of the purchase total, as well as birthday gifts and email specials. As a result, Dryden remains loyal to LS Arts, noting, "LS Arts is a refreshing partner to work with in today's business world."
Kevin Seifert's phraseology was much the same in reference to LS Arts' customer service and his business relationship with the wholesaler. The owner of MySecretPantry.com, an online "Foodies" retail site, notes, "All I can say about LS Arts is that they are customer driven and refreshing to work with, something unexpected in today's business world." And while MySecretPantry.com doesn't carry an extensive line of LS Arts' products like Glass Workbench, the available wine stoppers, wine charms, and drink stirrers, have turned over extensive sales. Launching its online shopping cart in June 2005, the Internet only retailer has worked with LS Arts since 2006, with the objective to carry out its mission to bring unique, quality ingredients and products to help customers and cooks prepare and serve gourmet meals at home. "What LS Arts has to offer is not quite mainstream, and that is what my customers are looking for," says Seifert.
Now in its sixth year of business, MySecretPantry.com is due for some improvements. "The company is looking to add a panel of cooking professionals to recommend products and provide helpful information for those home chefs visiting our site," says Seifert. "I'm also hoping to have a redesign of the website done before the holiday season, as well as a points-based loyalty program instituted." And while the demand in meeting customer needs during an economic downturn keeps MySecretPantry.com staffers sometimes too busy to complete its growing to-do list, it is the continuous sales of LS Arts' products, and other favorites like electric appliances and cooking rubs, that keeps the retailer in business and ambitious to expand and improve.
Douglas Burke, general manager of WineStopperShop.com, has also been a loyal customer of LS Arts for seven to eight years. Running an Internet only retail business and operating several different websites, Burke notes that WineStopperShop.com is his primary retail site, and the most successful with the help of LS Arts. "The website offers 850 different wine stopper designs, and 95 to 99 percent of business is from the sale of these wine stoppers. We also offer a line of wine holders, wine bags and more," says Burke. Fulfilling corporate orders and single customer orders within the U.S., Burke relies on high quality products that fulfill customer demands. "Glass wine stoppers are our best sellers now. Customers, especially brides, love the glass heart and glass animal stoppers supplied by LS Arts," he notes. But it isn't just about having what the customer wants, "it's about filling orders fast, especially during the rush of the wedding season," Burke adds. "LS Arts takes care of us."
With a fair price point offered and a low minimum of  $150 required by the wholesaler, WineStopperShop.com is able to make a profit, even with some in-house product breakage. "Business has grown even during these bad economic times, and LS Arts' competitive pricing has helped make it possible," emphasizes Burke. To help assist with growing sales, the online retailer has implemented some email marketing, as well as special coupon incentives to past customers. As any businessman would say, the plan is to continue to grow the business; and after 13 years, WineStopperShop.com continues to offer high quality products, some mass produced and some manufactured by individual artisans. "LS Arts continues to be a supplier for WineStopperShop.com because of its craftsmanship and responsiveness. Its growth over the years is a testament to what it has to offer."
Conventional wisdom dictates that during sluggish economic times, the less necessary an item is, the more likely consumers are to eliminate it from their budgets. It would be understandable, therefore, if it was assumed that it has been a somewhat bumpy ride for those in the business of selling gifts. Yet, birthdays, weddings and holidays never stop popping up on the calendar, meaning the act of gift giving is here to stay. While it certainly has been no walk in the park, retailers have found ways to keep their products moving, meeting the demands of frugal customers who want a unique and high quality gift to give on those special occasions, such as the many glass giftware items supplied by LS Arts.
For more information:
LS Arts
5607 Hiatus Rd, Suite 100
Tamarac FL, 33321
Tel.: 954-722-1750
Toll Free: 877-929-1414
Website: www.lsarts.com
Glass Workbench
318 South Main St
Saint Charles, MO 63301
Tel.: 636-946-2002
Toll Free: 800-746-2002
Website: www.theglassworkbench.com
CB Internet Sales
The Wine Stopper Shop
493 Dick Rd., Depew, NY 14043
Website: www.winestoppershop.com
My Secret Pantry
5135 E Ingram St.
Mesa, AZ 85205
Tel.: 480-641-6100
Toll Free: 866-440-2811
Website: www.mysecretpantry.com