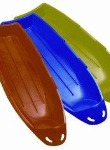 The chill in the air is enough to remind everyone that even if the calendar doesn't say so, winter is here, and that means it's time to get ready for snow. One outlet that's fully stocked and awaiting your call is NBT Wholesale of Twin Falls, ID. "We've seen heavy action on all our winter items," says Scott Thompson, VP of sales at the year-old company. "We know what sells because my brother [company President Nathan Thompson] and his partners had a toy store before getting into wholesale," he adds.
NBT does indeed have complete stock of the most-wanted winter products, including a full lineup under the nostalgic Flexible Flyer brand. "One of our big sellers is the 3 ½-foot plastic toboggan called the 'Winter Lightning'," Thompson says. "We're also getting a lot of calls for our plastic Flying Saucer, which is about two feet across, perfect for downhill," he adds.
NBT also has an extensive line of the newest winter craze, inflatable tubes, in 60-inch, 50-inch and 39-inch sizes. The 60-inch tubes, which hold three people, wholesale for $20 each and retail for $39; the 50-inch sizes go for $13.90 wholesale and retail for $27.99 each, and the 39-inch size wholesales for $9.25 and retails at $18.99. Minimum order is one case of 12.
Thompson is very excited about the company's newest offering, a snow-castle kit. "It comes complete with three different-sized snowblocks," he says. "The gigantic and middle-sized ones are for making the blocks, and a there's turret-shaped one for topping off." The castle kit wholesales for $14, and the MSRP is $27.99.
"We can ship everything in about two to three days," Thompson says, "depending on order size and how close to Christmas we get." Registration at NBT Wholesale is simple as well. "Folks just need to call or e-mail and I'll plug them into our management system," Thompson says. "We're very customer oriented and want to make dealing with us as easy as possible."
For More Information:
NBT Wholesale
2363 Warren Avenue
Twin Falls, ID 83301
Tel.: 208-734-9131
Website: www.nbtwholesale.com