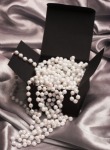 Consumers may not be giving gifts as generously they did during the economy's "boom years," but some new surveys suggest shoppers will spend a bit more and start giving presents this year that people want rather than simply need, USA Today reports.
"It's not all about being cheap this year," Pam Goodfellow of BIGresearch, which does consumer polling for the National Retail Federation, told USAT.
Handbag and accessory maker Coach, which has started offering lower-priced options, reports its revenue was up 20% in the first quarter of fiscal year 2011, the paper says. Much of the growth is coming from the wealthiest consumers, adds Josh Chernoff, leader of business consulting firm Bain and Co.'s North American retail practice. Households earning more than $100,000 a year make up just 21% of households but are driving almost 40% of overall consumer spending, he says. That's up from 34% of consumer spending in 2006. Retailers who cater to the affluent — higher-end department stores, luxury retailers and warehouse club stores — are doing the best "and we think we'll see that trend continue through the end of the year," Chernoff tells USAT.