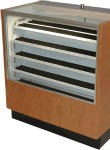 It's a vexing problem many retailers face: How do you display your expensive wares without the constant threat of shoplifting? The solution comes from a company called Spin Display, which has succeeded by doing one thing exceedingly well.
Spin Display builds and distributes beautiful wood and glass displays cases with a twist; they feature shelves that scroll around on a chain-driven track, which allows customers to see myriad pieces, all in a secure, locked environment.  "The company's been around for about 60 years," says president Joel Leach. "The mechanics have stayed the same, but the cabinets have changed with the times," he adds.
For those who've never seen one, a Spin Display case has a lighted glass front and top, along with a button that allows the customer to advance or reverse the "rolling trays" so they can see a full shelf of different products at their own pace. "We sell to Mom and Pop stores, sports collectible shops, jewelry stores, antique shops, and even private collectors who want to display their collections," Leach says.
Built to order, the Spin Display cases measure three feet wide and 20" from front to back, and come in either a 38" or 40" height.  Buyers have a choice of Cherry, Maple or Oak wood, with six different laminates available and four trim options.
"We offer a lifetime warranty on the chain sprocket and drive mechanics," Leach says, "and a manufacturer's warranty on the motor." Pricing starts at $1750 per case, plus a shipping charge depending on where the case is being sent. Discounts are available on larger orders.
Spin Display is looking into developing a new tabletop model, and is also offering LED lights as opposed to the current fluorescents.
For More Information:
Spin Display Inc.
3970 17th Street
Boulder, CO 80304
Tel.: 303-443-2721
Website: www.spindisplay.com