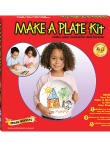 One of the problems with kids' artwork is that it usually ends up stuck on the refrigerator door for a while, and is then relegated to someplace where it's never seen again. But the good folks at Makit Products have a better idea to not only preserve that art, but make it display-worthy as well. "Our founder, Bob Hodges, got the idea to preserve artwork on plates when a teacher-neighbor asked for his input," says Becky Taylor, marketing director at Makit. "With a background in plastics and dinnerware manufacturing, Bob saw an opportunity to create a craft medium that children and parents would love." And so Makit was born.
"With the Makit kit, kids can create their own artwork which is then shipped to us, and we send it back sealed to a melamine plate," Taylor says. "We always have special promotions for stores to help build traffic and increase business," she adds. For example, one of Makit's promotions is Craft Playday, where a retailer can get up to 50 templates to present to customers. A poster is also provided to promote the event, and the finished artwork is sent from the storeowner to Makit, who then send the finished plates back to the retailer. "This way, the retailer gets the initial customer in, and then they come back a second time to pick up their finished artwork."
Regular plate kits from Makit wholesale for $7.50 and retail for $15, for a minimum order of 12 kits.
Coming up in the New Year, the company plans to revamp its website to make it more reseller-friendly, with more downloadables online, as well as scannable template.
For More Information:
Makit Products Inc.
4510 Duncanville Rd.
Dallas, TX 75236
Tel.: 972-709-1579
Toll Free: 800-248-9443
Website: www.makit.com