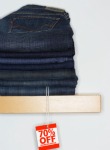 Despite concerns about unseasonably warm weather and economic pressures, MarketWatch reports that October sales beat analysts' lowered expectations, offering hope that consumer spending may remain resilient heading into the key holiday selling period.
"The consumer still has some pent-up demand," Keith Jelinek, director in the global retail practice at consultancy AlixPartners, told MarketWatch. "They want to spend."
While the National Retail Federation and others have forecast consumers are poised to spend more this holiday season, a recent AlixPartners survey, said consumers plan to spend 8% less on holiday gifts, with younger consumers planning to spend more while so-called baby boomers plan to spend well below the average.
For a complete look at the findings, as well as what some other companies are saying, click HERE.