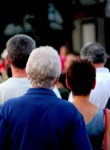 The U.S. Department of Labor's Occupational Safety and Health Administration (OSHA) has sent a letter to 14 CEOs of major retail companies urging them to take precautions to prevent worker injuries during Black Friday and the holiday season's other major sales events. The letter was accompanied by a fact-sheet outlining injury-reducing tips.
"Crowd-related injuries during special retail sales and promotional events have increased during recent years," Assistant Secretary for OSHA Dr. David Michaels said in a statement. "Many of these incidents can be prevented by adopting a crowd-management plan, and this fact sheet provides retail employers with guidelines for avoiding injuries during the holiday shopping season," he added.
Among the tips suggested for crowd control:
Where large crowds are expected, have trained security or crowd-management personnel or police officers on site.
Create a detailed staffing plan that designates a location for each employee.
Ensure that employees are properly trained to manage the event.