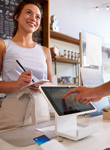 It is a good time to be in retail. Continuous developments in technology are leveling the business playing field, the new political climate promises imminent policy changes, and overall consumer and retailer optimism is rising. Buck Stinson, SVP for Capital One's small business card and Joe Brusuelas, chief economist for RSM discuss some of the key factors behind the small and mid-market optimism, and what to expect going forward.
Trends in Technology
Capital One's latest Small Business Growth Index states that retailers expect trends in technology to have a big impact on their business, with 57 percent expecting chip cards, Internet of Things, mobile payments and Artificial Intelligence to all have some type of impact on their business, compared to just 44 percent of non-retailers.
Unsurprisingly, retailers are the most likely of all to offer mobile payment options to their customers, with 29 percent of retailers offering mobile payments compared to 23 percent of businesses overall. This represents a slight increase from Capital One's report in 2016 when 24 percent of retailers said they offer mobile payment options.
Policy Developments
Brusuelas from RSM says that midmarket retail optimism is "tied directly to policy developments." RSM's Q1 index for 2017 reported a record high for mid-market businesses. Brusuelas explains, "The economy is improving at a modest pace, based on strong demand for labor and rising wages, that have resulted in an extraordinary three-year run where household consumption has increased three percent on a quarterly basis. This bodes well for mid-market firms, this bodes well for online retail space, and this bodes well for new entrants to the retail market. But," he continues, "Publicly shared retailers are not capturing the spending that's occurring." It's the small and mid-size retailers.
"Middle market businesses are expecting an improved balance sheet based on tax cuts," continues Brusuelas. "The next six months will be a crucial period with respect to the shape, form, and function of the retail environment. The big risk to retail would clearly be the border tax as part of overall tax reform. But should the border tax die a natural legislative death then we're talking a period of opportunity for retailers. This is a fluid period of time for policy and it's important for retailers to engage."
Best is Yet to Come
Capital One's Index reports small business owners are feeling good about sales, the economy, and future conditions. The Small Business Growth Index found 50 percent of small business owners overall feel current business conditions are good or excellent, which is up from 41 percent this time last year. 50 percent also expect to see conditions improve in the next six months, which is the highest level reported since spring 2012. Women and Millennials are driving optimism, with 47 percent of women saying they'll be in a better financial position six months from now and 73 percent of Millennials expecting better conditions. Buck Stinson says, "It's encouraging to see more small businesses feeling optimistic about their performance and future prospects, particularly women and younger business owners who represent increasingly significant segments impacting our local and national economies." Brusuelas concludes, "The underlying fundamental data is that things are pretty darn good for retail."