By IvyLee Rosario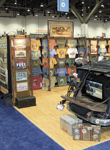 Known for having the best collections for the souvenir and resort industry, the Las Vegas Souvenir and Resort Gift Show will be in full swing September 16-19 at the Las Vegas Convention Center. "If you are in the business you need to be at this show," said Donna Guess, Vice President of the Souvenir and Resort Shows for Urban Expositions. "From products to trends to seminars to networking, this is where you are going to see your peers and the kickoff of the new product lines too." From products such as shot glasses and photo frames, to t-shirts and jewelry, the Souvenir and Resort Gift Show has a vast array of merchandise for buyers to choose from.
The show has a large percentage of returning exhibitors as well as adding in a Made in America and Hawaii Pavilion to expand their product line up. In addition to the added sections, the Souvenir and Resort Gift Show is offering free seminars on Thursday for all registered attendees, including topics on Credit Card Processing 101 and a Retail Roundtable discussion. The show also encourages its exhibitors to take part in Free Freight Friday, in which they offer free transportation for merchandise on all orders placed that day, Goody Bag Giveaways in which the first 100 buyers on Thursday and Friday receive a tote bag filled with free gifts from exhibitors, Cash Giveaways and Super Savings Saturdays, where buyers have the opportunity to find some extreme discounts on the last day of the show. Both exhibitors and buyers have a lot to gain from being at this show, said Guess. "Exhibitors will benefit from having exposure to the largest retail buying group in the souvenir and resort industry, and for buyers, the excellent assortment of products they will see across the board all under one roof."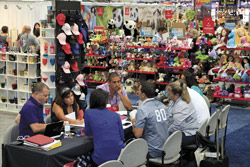 If you are a first time buyer at the Souvenir and Resort Gift Show, Guess recommends preparing ahead of time to make sure you get the full experience of the show. "Look through the product preview guide to map out exactly how you are going to work the show." If you are an exhibitor, she suggests having a great product selection for buyers because in attendance will be some of the largest souvenir buying groups that are in the country.
In order to register for the show, buyers and exhibitors need to fill out the online form and provide two forms of business ID and one photo ID. Two forms of business identification may include a business card, tax ID number, stationery or other document with a pre-printed address and company name on it. Once approved, participants will receive their free admission badge and product preview guide in the mail. In addition to an easy registration process, the Souvenir and Resort Gift Show also takes care of its buyers by offering some of the lowest hotel pricing available. "Our housing company provides our buyers with nice buy down rates. Urban Expositions will subsidize the cost of hotel rooms so buyers can get them even lower. We have a very limited offer of $9.99 for retailers," said Guess. For more information on the show visit www.lvsouvenirshow.com.