By Kevin Zimmerman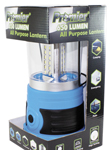 When asked if there is a particular product line that does especially well for Promier Products, president Cody Grandadam has a simple answer: flashlights. "There is a lot of competition in the flashlight industry," he said. "But we believe our main competitors are our own limitations. We truly feel as a complete flashlight company that we are very different from many others out there. There are many wholesalers that sell flashlights – and those same firms also import tools, gloves, knives and maybe even the kitchen sink. We focus on one thing: Flashlights. Just like you would not go the dentist for brain surgery, we feel you would not buy your flashlights from your glove guy."
Grandadam's wry forthrightness is reflected throughout the company and its website. While Promier bills itself prosaically as "your light source for flashlights, batteries and accessories," dig a little deeper and you will find comments like "We have got your run of the mill flashlights but that is just the beginning. We have LED keychain lanterns, LED work lights, and LED magnifying glasses. Crazy, right?" as well as an "About Us" page that features animated photos of its employees and some pithy non-flashlight-related remarks.
It is a jauntily customer-friendly approach that has helped make Promier an important player in its sector since its inception. "In a previous life I sold batteries for another company, and was constantly seeing flashlights next to our batteries being sold," Grandadam relates. "I did not, however, see much innovation in the lighting industry and when there was innovation, it seemed the prices were way out of reach. The company's primary focus at that time was still on batteries, whereas I had a passion for the flashlights, so in January of 2011 I decided to develop a complete flashlight operation."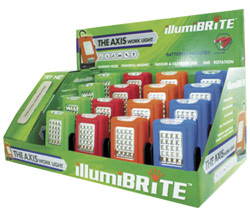 Promier's flashlights range from a standard 9 LED light with 3 LED keychain ($3.50) and 30 LED swivel lantern ($20.00) to a four-pack of 0.5 LED flashlights ($15.00) and a "Camping Bonus Pack" consisting of an 11 LED lantern, 9 LED flashlight and 8 LED head lamp ($15.00) Along with laser pointers, keychain lights, bike lights and other categories, there are also novelty items such as the 1 LED flashlight that comes with 40 doggie bags ($5.00) — perfect for cleaning up after Poochie on his nighttime walks – and 6- and 9-LED flashlights attached to a bottle opener ($4.00-6.00). Batteries are included with most products, and Promier also sells replacement batteries; per the website, "We have tried to develop flashlights that never need batteries but we just cannot do it. Look, we are very sorry about it but it is just the way it is.
In addition to its 200,000 square feet-plus warehouse at its headquarters in Peru, Illinois, Promier also has an office in Ningbo, China, for all of its sourcing, design, and global sales. From the start, Grandadam says, the company's approach has been centered on the positive. "In the beginning, although we worked around the clock, it did not feel like work," he maintains. "We quickly grew a strong customer base with our innovation, direct factory sourcing and our willingness to evolve to meet the customers' needs."
Keeping on top of trends has of course been key. "LED Technology is always getting better," he says. "Over the years, we have gone from standard krypton bulbs to single LEDs that can throw more than 1,000 Lumens. As the LEDs and lighting sources evolve, so do we."