By Mackenzie Hurlbert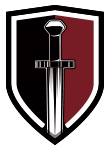 Based in Ramsey, Minnesota, The Tactical Crusader Company was started by Jonathan Hoffman and Derek Johnson. Since it's humble beginnings in a garage, The Tactical Crusader has grown into the leading supplier of airsoft products, gear, and BOLT crossbows.
Grant Johnson, vice president of Sales and Marketing for The Tactical Crusader said the idea for the business began when the two founding partners saw an opportunity for a niche company. "Jonathan Hoffman and Derek Johnson met while working for another sporting goods company," said Grant Johnson. "They saw an opportunity to provide retailers with in-demand, margin-rich products in an extremely efficient way." They started off supplying their customers with extreme sporting goods including airsoft & airgun products and accessories as well as a host of other items.
"We knew that our retail customers wanted exciting outdoor sporting goods products at a fair value without sacrificing quality," said Grant Johnson. Since the company broke into the market, they have grown into an industry leader. The Tactical Crusader started in a garage, grew into one of the largest distributors in the air gun & airsoft industry and is now the manufacturer of BOLT Crossbows, as well as Tactical Crusader shooting and tactical products.
When developing the name for the business, the two founders tried to capture their services in a few words. They sell tactical related products—Tactical—and are crusaders with their pricing—Crusader.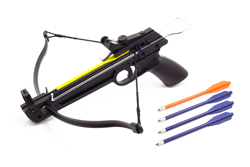 The Tactical Crusader currently sells a variety of crossbows and knives as well as airsoft & airgun products and accessories. They also have a selection of bags, backpacks, protective wear, and tactical gear. Along with their drop-ship program, the company also offers a wide variety of closeout items and refurbished products. Their most popular products are from the BOLT Crossbows brand, with The Spark Mini Crossbow being their best seller. Johnson also added that the Tactical Crusader brand shooting and tactical products are also popular.
While the business has grown tremendously since its garage-based beginnings, there have certainly been challenges along the way. The Tactical Crusader is transitioning from being a traditional distributor to a full on manufacturer. Challenges have included technology improvements, managing a growth rate of 35-40% year over year, and developing their own BOLT Crossbows and Tactical Crusader products.
When looking to the future, The Tactical Crusader hopes to build upon the growth and success they've experienced thus far. Their goal is to continue to grow the BOLT Crossbows brand and provide both domestic and international sporting goods retailers with in demand, margin-rich products.