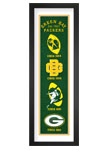 Station Bay Wholesale takes pride in offering attractive sports embroideries. The family owned company, which started selling sports-themed signs and tins, launched a line of framed sports embroideries in early 2010. "Our embroideries are framed in double mat or single mat," owner, Sharon Luebrecht explains. "That is distinctive and unusual. Most people just hang their embroideries directly on the wall, and they gather dust. Since ours are quality framed and under glass, they are very attractive and last forever. That's the wow factor."
Depending on the team, the embroideries are available in two sizes: 35" x 12" and 14" x 26", in selected products. They are available for teams from the National Football League, Major League Baseball, the National Basketball Association, National Hockey League as well as most college teams and universities.
Quality-minded sports fan
Station Bay Wholesale's framed embroideries are perfect for an enthusiastic or quality-minded sports fan who wants to move past posters taped to the wall, or unframed embroideries. "Many of the customers are people who have sports rooms, man caves, or professional people like doctors' offices and law offices," she says. "We supply gift stores, furniture stores, stationary stores and bookshops; any retailer who is looking to offer exclusive sports products. It is targeted for the higher-end client." All of the embroideries are shipped with corner protectors and a protective film covering the glass, with a hanger attached on the back. Retailers can easily display a "small grouping" on the wall in their shop, either with or without the protective cardboard, to gain the attention of their customers.
Station Bay Wholesale enhances the value of their embroideries by adding customized mats in a variety of colors with a solid black frame. There is no minimum wholesale order. The frames are shipped five to a case, so it saves on shipping costs. Single-matte embroideries run $42 per unit at wholesale, while double-mat embroideries are $45 per unit. Suggested retail is $89.95 to $119.95, but the product may be priced higher, depending on demand, as championship teams command a higher margin.
Letter art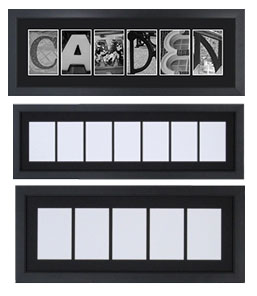 In addition to the sports embroideries, Station Bay Wholesale is also introducing custom letter art that allows buyers to spell any phrase or name in decorative letter photographs, then frame it. The letter photographs are all inspired by architectural and natural landscapes.
One of the great strengths of this product line is its flexibility. Retailers can let customers buy their own letters and mat design, which includes the frame, and assemble it themselves. Another option is to sell pre-made phrases such as "love" and "family", or popular names, city names, or sports teams. As a third option, the letter mats and frames can be sold separately.
"We customize our frames to fit the letter art," Luebrecht explains.  Frame sizes vary depending on the amount of letters. Sizes start at 9″ x 20″ frame for four letter words up to 9″ x 46" frame for 10 letters. "A lot of people are spending $75 to $100 for custom letter frames," she says. "A retailer could buy an assortment of letters along with the frames or purchase the mats with frames separately. Custom frame sizes are also available upon request. You could easily triple your investment as a retailer." Because the product line is so flexible, calling the company directly for wholesale pricing is recommended.
For more information about Station Bay Wholesale, read their blog posts here and here.
Station Bay Wholesale
400 Loveland Madeira Road
Loveland, OH 45140
Tel.: 866-909-7446
Website: stationbaywholesale.com