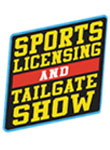 The Sports Licensing and Tailgate Show is set to host major sports leagues, collegiate leagues, licensees and retailers, January 16-18 at the Las Vegas Convention Center.  It is the only trade show in the U.S. that taps into this $18 billion market, and more than 300 exhibitors are expected to share new and exciting products with thousands of retail buyers. Now in its 8th year, the show was formerly owned by Showproco, and was acquired by Emerald Expositions this year.
"We are expecting attendance to be higher this year over last year," says Nikki Puckett, marketing manager for the Sports Licensing and Tailgate Show. "We are broadening our reach and targeting the synergies between the other Emerald Expositions events, such as Outdoor Retailer. We have a lot of events in our portfolio that tap into the same audience, and we want to bring in as many qualified retailers as possible for our exhibitors."
Opening night party
The Sports Licensing and Tailgate Show is the only place where exhibitors can see all their customers under one roof in three days, and make deals to get them set up for the entire year. To get things started, Emerald Expositions is bringing retailers and exhibitors together for a little networking. "We are having an opening night party when the show closes on Thursday, January 16, right on the show floor. There will be a 'sports lounge slash man cave' type area, decked out with the exhibitors' products, along with a bar and a DJ," Puckett explains.
Rising Star award

Emerald Exhibitions will be continuing many features from past shows, including the Rising Star Retailer Award. "We will recognize five outstanding retailers from various regions across the U.S. and Canada that have been chosen by their peers, and host them at the show," Puckett states.
License to Buy program
The show will also continue the License to Buy program, which benefits both exhibitors and attendees. Exhibitors can place coupons in the show directory that offer specials such as free shipping or a 10 percent discount. Retailers use the coupons to make purchases at exhibitors' booths, and then show management rewards them for the purchases with money back, based on their cumulative spend.
Tailgate Zone
New this year will be a dedicated area called the Tailgate Zone. It is reserved for manufacturers of non-licensed products such as games, chairs, coolers and grills. "Tailgating in general is a growing segment," Puckett reports. "Many of our exhibitors do both licensed and tailgating products, and many are putting a new focus on this segment. We have found that buyers who are interested in tailgate products may or may not be interested in licensed products. We want to make the showroom floor easier for them to shop, and ensure those products do not get lost among all the others."
FIFA 2014 World Cup
The show is also adding an area this year called the FIFA 2014 World Cup, dedicated to FIFA licensees. In addition, there will be a Fashion Zone. "It is not an exhibit area," Puckett shares. "It is more like a lounge where exhibitors will be displaying their fashion apparel and accessories. People can stop by and get a bite to eat or have a meeting, and exhibitors will get an extra opportunity for brand exposure. Apparel is always a huge segment of the licensed market, and we expect that to remain a strong segment."
The regular registration price for attendees is $100, but retailers who sign up before December 26 will receive a $50 discount. Space is still available for exhibitors.
Emerald Expositions
31910 Del Obispo St., Suite 200
San Juan Capistrano, CA 92675
Tel.: 949-226-5750
Website: www.showproco.com