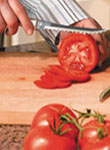 RADA Cutlery launched in 1948 with three kitchen knives: a paring, utility and slicer. Today the company carries a full line of 26 kitchen knives, 21 utensils and 28 gift sets, and has sold more than 132,000,000 knives. Based in Waverly, IA, RADA has built its business on high quality, service and value, states Dan Kielman, VP of Marketing and Sales, and offers a lifetime guarantee. "We design our own products, and everything is manufactured here in the USA. Our knives are made of surgical grade T420 stainless steel, and they are hollow ground and hand sharpened." Two handle styles are available, and they are brushed aluminum, which is silver in color, and black stainless steel resin. The black handles were introduced about six years ago because they have better tolerance in automatic dishwashers, although the company recommends hand washing for all its knives. "Automatic dishwashers are hard on a natural metal like aluminum, but many people prefer them to hand washing the knives, so we developed the stainless steel resin," Kielman explains.
Regular paring and tomato slicer top sellers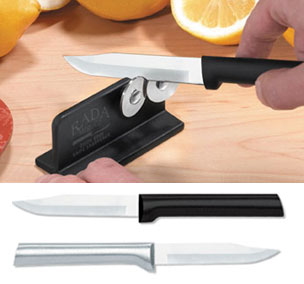 RADA will sell 4.5 million knives this year, and its number one product is the regular paring knife with a 3-inch blade. It wholesales for $2.58 and retails for $5.20. "The tomato slicer is a really unique item," Kielman adds. "It is our second best seller, but it is the most talked about." The tomato slicer has a five-inch blade with dual serrations, and works with a host of other foods, including onions and bread. On the utensil side, RADA's best seller is the Quick Edge knife sharpener, which wholesales for $3.47 and retails for $7. Easier and quicker to use than a sharpening stone or electric sharpener, users pull the blade between two wheels to sharpen it in seconds. The vegetable peeler and serrated pie server are also top sellers. Among gift sets, the most popular assortment is Paring Knives Galore, which comprises regular, peeling and heavy-duty paring knives. The six-piece utility/steak knives set is another hot item.
RADA also sells stoneware, cookbooks and soy wax candles. "We have been selling candles for about seven years," Kielman notes. "Soy candles are a natural extension of our Midwest base. They are higher quality, and burn longer and cooler than candles made of paraffin wax, and we are able to use a natural cotton wick."
Buying details
The minimum order is $75, and RADA Cutlery offers an annual buying discount program whereby retailers can earn up to 10 percent off wholesale prices. The first tier is a two percent discount when orders reach $1,000. To earn the full 10 percent discount, retailers have to purchase $15,000 in goods. Retailers can place orders online, or by phone, mail or fax, and nearly all orders are shipped within two business days. RADA sells several point-of-purchase displays, which can be viewed on the company's website.
Rada Cutlery
Toll free: 800-311-9691
Tel.: 319-352-5454
Website: www.radamfg.com