Promie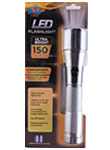 r Products, a designer and manufacturer of high quality LED flashlights, has developed a new tactical lineup. Six sizes are available, offering merchants a variety of lengths and power, from five inches long and 100 lumens to over a foot long and 500 lumens. The firm's tactical flashlights contain high quality LED lights, produced by market leader, Cree®. "Five hundred lumens is very bright, making tactical lights useful in many circumstances. They are very popular for hunting and security," reports Cody Grandadam, president. An American National Standards Institute (ANSI) certified facility tested Promier's flashlights to determine the lumen count, which helps buyers compare models. Made of aircraft aluminum, the products are packaged with alkaline batteries, are gun metal in color, and have a three-year warranty. The flashlights have an attractive scalloped edge and a knurled grip for a secure hold. Wholesale is  $2.45 to $20, and retail runs from $9.99 to $34.99.
Competitive prices, added value
Many independent retailers like to sell good quality flashlights for $9.99 and up, and Promier's tactical line gives them the opportunity to hit both low and higher retail price points, Grandadam assures. "We are competing with other manufacturers of high quality goods, and we feel our products are better, yet more affordable." Another well-known company sells a 200-lumen flashlight that retails at a large chain for as much as $34.99. "We have a very similar model that requires three D cell batteries and retails for around $34.99, but ours is 500 lumens," Grandadam continues. "For the same price, you get much more with Promier LED. People want good quality, and they want options. You often do not find the higher quality flashlights in retail stores, so people buy them online. Our tactical lineup helps brick and mortars remain competitive."
Customer service
Innovation and customer service continue to be high priorities for Promier, and customers are given a direct phone line for service. "We take care of our customers and ensure they have a positive buying experience," Grandadam states. "Whether they are buying one or 1,001 flashlights, all our customers are important to us. If anyone has a problem with an order, we invite them to call us so we can make things right. They will get a real person on the line every time." The firm carries about 75 varieties of flashlights at all times, and sells millions of products each year to 30,000 stores nationwide.
Promier's tactical flashlights, as with many of its products, arrive in a counter top display and are also peggable. The minimum order is one display, which generally comprises six units. Orders typically ship the same day if they are received by 2 p.m. CST.
Promier Products
312 5th Street
Peru, IL 61354
Tel.: 815-223-3393
Website: www.promierproducts.com