by IvyLee Rosario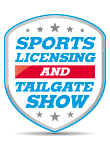 Held January 24-26, 2016 at the Las Vegas Convention Center, the Sports Licensing and Tailgate Show is the premier event for brand owners, licensors, licensees and retailers interested in sports licensed products. Attendees will have the chance to see more than 300 exhibiting companies, representing every possible product category. "Today, the show floor is already 85% sold out and will feature more than 300 returning exhibitors, including Champion®, Fabrique Innovations®, Gameday Couture®, Jack Mason Brand®, Under Armour®, Victory®, and Tailgate®," says Liz Crawford, Show Director, "as well as new exhibiting brands including, CollegeGuitars.com, Freaker USA®, Gameday Ironworks® LLC, Gameday Leggings®, Rhino Rugby®, and more."
In 2015, nearly 2,000 key buyers were in attendance to preview the latest in sports licensing gear, apparel, home goods and gifts. Representatives from Amazon.com, Sport Chalet®, Nordstrom®, Dunham's Sport®, Burlington®, Big 5 Sporting Goods®, Fred Meyer®, Kohl's®, Lids®, Pro Image® and Target® have already registered to attend the 2016 show.
All of the professional leagues and collegiate teams will also be represented. "Licensors returning will be CLC, Learfield Licensing Partners, National Hockey League® and NBA Properties Inc., among others," remarks Crawford. "Several universities and colleges have already registered to find the latest in licensed gear including UCLA, Indiana University, Kansas State, Iowa State, Oklahoma State, and more."
At the show, attendees can expect several events to help organize their time and put them in touch with businesses that will assist with their licensing goals. On opening night there is a mixer that provides a platform for networking, there is a merchandising session that provides tips and tricks for independent retailers to help drive sales and customer visits through the development of powerful store merchandising, and an Independent Retailer Conference enters its third year at the show.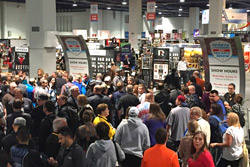 "The Independent Retailer Conference delivers valuable 15 minute education segments specific to independent merchants," notes Crawford. "The conference will feature a variety of industry experts and retail thought leaders presenting more than twenty educational sessions and a 'meet and greet,' in which retail experts will welcome attendees to engage, learn and connect with them one-on-one."
The show also features a program called Licenses to Buy. Participating brands provide order incentives to encourage retailers to take action, making the Sports Licensing and Tailgate Show a true order placing tradeshow. "Nearly $3 million in orders were written at the 2015 show," recalls Crawford, "with our 57 Licenses to Buy exhibitors and the 110 buyers, the majority of which are independent retailers that participated, they got more money back than ever before."
If attending the Sports Licensing and Tailgate Show for the first time, Crawford says attendees can anticipate finding more unique product offerings than they would think. "There are so many unique fashion accessories, home gift and tailgate items. Most have the teams you are looking for and if not, most are open to adding your favorite school or team if possible. Be prepared to create some new shelf space for great new products!"
Crawford says she is optimistic for the 2016 show and has high hopes for its continued success. "We want to continue to bring in more collegiate licensed manufacturers and retail stores focused on collegiate licensing, while continuing to strengthen the significance and impact of our show on the sports licensed products industry. We want to continue to build this show as a can't miss event for anyone in the sports licensed and tailgate products industry."
Online registration for the show can be found at www.sportstailgateshow.com.
All attendees must be active retailers, distributors, or otherwise affiliated with the sports, sports licensing, and general licensing or tailgate industries.