by IvyLee Rosario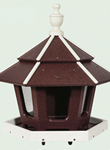 Made out of recycled milk jug material, Green Meadow birdhouses and feeders are a built to last product that are sure to turn heads with their quality and unique looks. Established in May of 2010, the company was launched when John Hochstetler, owner, was inspired by a friend who asked him to build a birdhouse. After quickly selling eight, Hochstetler realized he could make this into a full time business, thus Green Meadow was born.
Green Meadow prides itself on their color selection, low maintenance design and quality of merchandise. "I try to keep my quality up; I will stand behind the product 100%," says Hochstetler. "We offer 14 different colors, something I see lacking in many other companies that may have a similar product selection to ours."
The company does custom color orders upon request with the addition of a small upcharge. "When I first started out with this business, I didn't know any college or football colors," Hochstetler states. "Then I went to a show in Fort Wayne and was selling out of all my blue and white feeders and houses. It was at that point that I realized the Colts were doing really well that year and customers were looking for that color scheme. Now I know of a lot of colleges and universities so I can match their colors."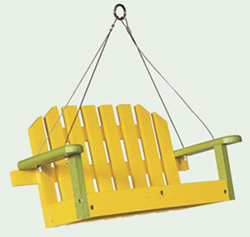 The birdhouses and feeders are maintenance free; all are pre-drilled, screw fastened and the colors guaranteed never to fade.
Birdhouses and feeders are available in packs of 10 units, minimum order. The average cost runs between $300-400 per pack depending on the product size and selections ordered. Retail price is normally 50% mark up on wholesale and can range from price $23/unit for the Peanut Butter Feeder to the Three Compartment Gazebo at $208/unit.
Popular selling items include the Oil Feeder, as well as the Finch, Songbird, and Bluebird houses. Green Meadow debuted a new feeder design that guarantees the feed will always be dry and protected from wind. The new design also includes a swivel feature which operates as a wind vane to denote the direction of the wind. This feeder usually sells for $139 retail.
In 2016, the company will be promoting mailboxes, a new product line that will be added to their website and collections.
For more information on Green Meadow, visit www.greenmeadowbirdhouses.com.