By Carmen Boeser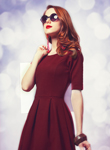 Even though temperatures are cold, retailers need to get their inventory ready to spring forward. This season is all about updated, original twists on classic patterns and fabrics. Here are the top trends shoppers will be hunting for come spring: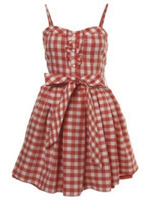 Gingham Style
Classic? Check. Cute? Check. One of spring's hottest patterns? Check! Gingham prints graced the runways of several designers at New York Fashion Week, including Oscar de la Renta and Diane Von Furstenberg. Retailers should be ready to join this square dance by offering up multiple selections of gingham on shirts, skirts, dresses, and even pants. This retro plaid print is appetizing in pastels and primary colors. Shoppers will eat up this sweet, picnic-ready trend!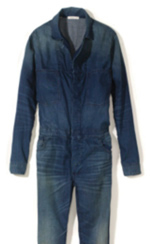 Denim Days
Although denim never goes out of style, industry experts predict that it will be bigger than ever in 2015! With the multitude of on-trend denim options to choose from, retailers can satisfy shoppers with a wide range of tastes. In contrast to the skinny jeans that have been in demand for many seasons, retailers ought to propose a refreshing alternative with cropped, wide-leg jeans. Sophisticated shoppers will appreciate clean, unmarred washes of denim, while trendsetters will be excited to find patched, distressed, or bedazzled denim. In addition, savvy retailers should sell denim in unexpected silhouettes, such as maxi skirts, shirtdresses, and jumpsuits.
Flower Power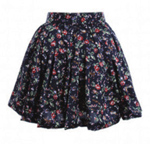 Nothing is more synonymous with spring fashion than floral prints. Because florals are such a style staple, how can retailers keep their inventory garden-fresh? One idea is to stock the racks with various types of floral prints. Tiny allover floral prints appeal to chic, refined shoppers. Big, defined flowers set on solid backgrounds make a bold statement. Another tip for retailers is to present floral patterns on all types of garments, including pants, tops, skirts, dresses, and sweaters. Concentrating on the color palette of the floral print is also key. Dark or night florals are set to bloom this spring. With the right mix of floral prints, budding and seasoned style mavens will be happy to stop and smell the roses.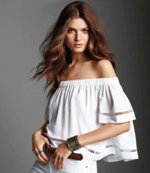 Cold Shoulder
This spring, trendy fashionistas will give winter the cold shoulder. Retailers must follow suit and present shoppers with one-shoulder or off the shoulder dresses and tops. The shoulder-baring neckline manages to look both timeless and modern, and allows shoppers to show just a hint of skin. Brides-to-be will love the romance and drama of off-shoulder dresses. Retailers carrying casual attire should also capitalize on this wearable trend.
More Wine, Please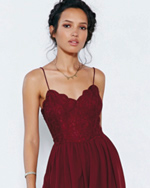 Pantone's 2015 Color of the Year is Marsala, a warm, hearty hue named after the robust red wine. Earthy, reddish-brown Marsala is palatable for fashion innovators and conservative shoppers alike. Retailers should present a diverse assortment of garments in this burgundy-tone, including pants, skirts, dresses, tops, and sweaters. Maximize interest in the hue by creating smart in-store color combinations. Marsala is a natural companion for neutrals like taupe and grey. Adventurous shoppers will find Marsala most flavorful when presented near bold colors such as mustard and teal.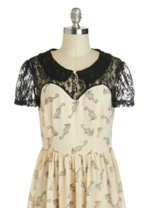 Unusual Animal Prints
Fashion has been doing a jungle boogie for years with the wild popularity of animal prints. This trend is nowhere near slowing down, but designers like Valentino and Louis Vuitton have gone under the sea for inspiration. In spring 2015, rather than showing stripes or spots, retailers need to present garments adorned with the faces and bodies of atypical beasts. Dresses, tops, and sweaters are ideal to feature creatures. Shoppers will be eager to illustrate their individuality – with a little help from their playful friends.