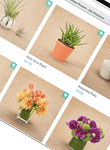 Card reader and software provider, Square, has introduced Square Market, an online storefront designed to help small businesses compete with larger eCommerce firms. Square has built its reputation on equipping small businesses with portable credit card readers, enabling entrepreneurs to process anytime, anywhere credit card transactions via iPhones, Androids and other devices, reports Resources for Entrepreneurs.
Square Market is intended to provide small businesses with a convenient, easy-to-use eCommerce destination, enabling them to better compete with online giants such as Amazon and eBay. Once businesses set up their online stores, they can begin marketing their products to online consumers, and accept payments in-store via their Square Register and online via Square Market. In addition, Square provides each small business with a consolidated view of sales with the Square Dashboard tool.
Although there are no monthly, listing or setup fees, Square takes a 2.75 percent cut of every transaction the merchant makes through the Square Market store. Fulfillment is not included, so it is up to the merchant to ship items, manage fulfillment requests and establish shipping fees for items purchased through the Square Market portal.
For some small businesses, especially those that leverage the company's portable card readers, Square Market may provide an opportunity to connect with geographically diverse online market segments.
For more information:
Square Inc.
110 5th Street
San Francisco, CA 94103
Tel.: 415-375-3176
Website: www.squareup.com