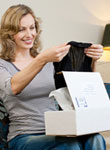 The total value of goods sold through online marketplaces, excluding Amazon, was $14 billion in 2011 and will grow to $54 billion by 2015, according to research by Forrester and Barclays. Retailers may want to take note of a new study, The Merchantry Report: The State of Online Marketplaces 2012, in order to take full advantage of the potential revenue-without-risk marketplaces offer.
Websites surveyed for The Merchantry Report were Amazon, Barnes & Noble, Best Buy, Buy.com, Kohl's, Newegg.com, OneStopPlus.com, Overstock.com, Sears, ShopNBC, TigerDirect and Walmart. Researchers evaluated product listings, pricing, social media, customer service, shipping and return processes.
Key findings of the report include the following:
Marketplace products are not extended the same functionality as retailer-owned products.
Only 39 percent of marketplace products could be added to a wish list versus 83 percent of retailer-owned products.
Gift registry functionality was available on just half of marketplace products.
Retailers that provide free shipping extend the offer to marketplace products only 33 percent of the time.
While the majority of eCommerce sites incorporate social media tools, the majority of online marketplace products do not have social media functionality.
Marketplace product information is often incomplete.
Only 50 percent of marketplace product listings state seller/merchant details.
Less than half of marketplace products feature customer ratings.
Only 20 percent of product pages have enhanced guides or videos.
Logistics are inconsistent for marketplace products as compared to retailer-owned products.
Out-of-stock inventory notifications are universal but processing times are not often shown.
The average time for customers to receive marketplace orders was high (4.57 days) – more than one day longer than the industry average (as reported by the e-tailing  group).
Conducting marketplace product returns is more difficult as not all merchants include complete information (e.g., how to return, to whom to return).
Cross-channel services are not in place for pick-up or returns for online marketplace shoppers.
Email responses were incomplete or they redirected customers to the marketplace sellers/manufacturers more than half the time (55 percent).
"The results of the report highlight that a mix of business, operational and technical factors must be considered when building and establishing online marketplaces," said Tommaso Trionfi, CEO of Merchantry. "A number of the existing operational and technical challenges could be alleviated by implementing a marketplace platform." Online marketplaces offer additional revenue opportunities for retailers and merchants. Retailers can easily expand product selection while merchants achieve broader distribution.