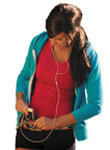 BANDI Wear offers a line of stylish belts and headbands with pockets that enable women to carry essentials hands-free.  The brainchild of co-owners Beverly Perrea and Beth Koenig, BANDI Wear is available in the classic pocketed belt, which can hold a cell phone, cash, credit cards, driver's license and keys, and a larger pocketed belt, sized to hold a passport and tablet cell phone. The firm also produces headbands, which can conceal a house key or small amount of cash. All products are manufactured in the USA.
Great for biking, hiking & events
BANDI Wear belts come in handy for many situations. "They are great for vacation, biking, hiking, attending sporting events or concerts, or anytime a woman does not want to carry a handbag or wallet," Perrea explains. "They do not bounce or ride up, so they are awesome for runners. There are other running belts on the market, but they are not stylish enough to wear with everyday clothes." The firm's headbands are also very popular. They can be worn folded or bandana style. "They have a very small pocket under the label, and are great if someone is going out on a run, or has a need to store something small," Perrea adds.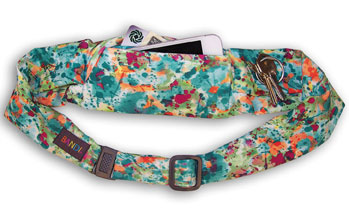 The pocketed belts and headbands are available in around 48 prints and eight solids. The larger pocketed style is available in several prints and solids as well. The classic belt wholesales for $14 and retails for $28; the larger belt wholesales for $16 and retails for $32; and the headband wholesales for $4.50 and retails for $10. "We began this journey about three years ago," Perrea recalls. "Beth is a runner and I am a walker, and we are both busy moms. We were looking for a sleek, modern way to carry our essentials when we were out and about. We couldn't find anything on the market other than bulky pouches with zippers and Velcro that were not at all stylish. We set out to create something we would wear, knowing there must be other women out there searching for a similar product."
Buying details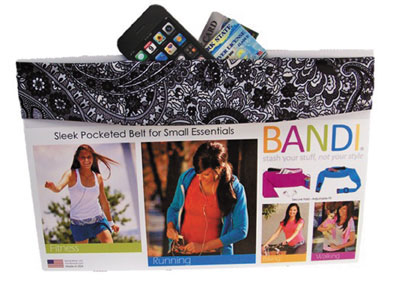 The minimum order is 18 pieces for belts, and may include a mix of the classic and large pocket styles. For retailers who order belts, the minimum order for headbands is 12 pieces, and for headband only orders, the minimum is 24 headbands. BANDI Wear has a foam core easel back sign with lifestyle images at the bottom, and space at the top to display a belt. It includes a display phone that can be tucked into the pocket. "The in-store signage helps customers see at a glance how the belt functions," Perrea notes. "Retailers can also display a belt on a mannequin with a phone inside the pocket." The company's ecommerce site offers a clear overview of the products, and the colors and patterns available, as well as a video that shows the belt in use.
BANDI Wear
Website: www.bandiwear.com