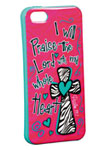 Kerusso Apparel & Gifts has been a leading wholesaler of Christian and inspirational products since 1987. "We look at what is trending, and we develop fun products and apparel around those themes," explains Jason Anzalone, director of Marketing. "We believe camo and southwestern styles will be popular this year. The zebra design has been very strong for several seasons, and we expect that to continue as well." As a result, Kerusso is expanding its Cherished Girl line of decorative tee shirts that showcase amusing, faith centered sayings. Cherished Girl previously comprised 12 bright tees and several jewelry and accessory items, and has added six shirts and a few trinkets.
Inspiration from proverbs
Camo in Pearls is one of Kerusso's newest designs, and Anzalone expects it to be an immediate top seller.  It is a pink shirt displaying a camo cross with pearls around it and says: "Camo in Pearls. Thank God I'm a Jesus loving country girl." Another new Cherished Girl tee shirt has a cross and southwest design, and says: "She is clothed in strength and dignity, and laughs without fear of the future." The firm has also added a shirt in purple, a new color for the line that proclaims, "I can do all things through Christ who gives me strength."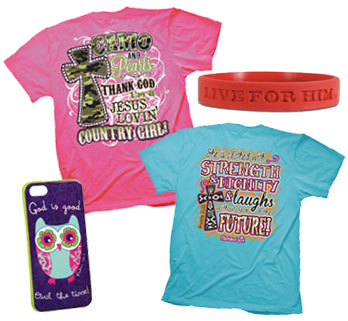 "Our target market is women from college age to 40s, but we also see grandmothers wearing our Cherished Girl shirts," Anzalone reports. "Women want clothing that allows them to make personal statements. They buy multiples of our shirts, and they are popular year round. Suggested retail for a shirt is $19.99, however we sell them at a wholesale price that allows merchants to sell them for $16.99 and still make the margins they need to." Wholesale prices vary, depending on volume and sales program.
Cherished Girl's new accessories include iPhone5 covers and wristbands, which have been very popular with a younger audience. "Cherished Girl merchandise is very hot," Anzalone continues. "Our retail buyers tell us these products are flying off the shelves. Prior to expanding the line, we conducted an extensive survey of around 1,000 consumers who chose from a large lineup of our merchandise and designs, and we ended up with these products. Our new introductions are what consumers told us they like and would buy."
Eye-catching product display
To help merchants make a statement with Cherished Girl, the company has created a bright pink, five-foot tall lighthouse display system. Set on a rotating base, the unit has cubbies for folded tee shirts, as well as areas to display the graphics and sayings. The stand is designed so the gift accessories can be hung on its sides. The Cherished Girl display with merchandise wholesales for $1,750 to $2,000, and the products included with the system retail for around $4,000.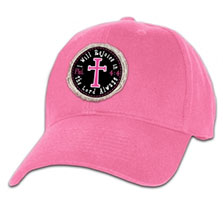 Kerusso will be exhibiting its entire new spring apparel, jewelry and gift lines at the Dallas Market Center show, January 23-26, with Diverse Marketing in suite 439. The company will also be exhibiting at AmericasMart in Atlanta, January 30 through February 3. It will be in suite 1212, building two, in the Butler Group showroom.
Kerusso has won several awards, including first place in the 2013 Christian Retailing's Best Accessories/Apparel category. The winning design was Dogtags, "Armed and dangerous—ready for spiritual warfare!" line of shirts and accessories. Up until this year, the awards were known as Retailers Choice, which were introduced in 2001.
Kerusso Apparel & Gifts
402 Hwy 62 Spur
Berryville, AR 72616
Toll free: 800-424-0943
Tel.: 870-423-6242
Website: www.kerusso.com