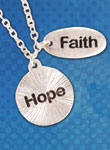 It takes a lot of heart and soul to become a successful company in the retail industry, especially when serving a niche market, but Kerusso Inc. is proof that it can be done. Reaching its 25-year milestone in 2012, Kerusso started as a home-based business in 1987 and is now a leading supplier of Christian-themed apparel, jewelry, accessories and gifts, with products in more than 100 countries. Vic Kennett, founder and CEO, was 23 years old and supporting a young family when he took his "Walk with The Lord" and decided T-shirt evangelism was to be his journey. Kennett tapped into his entrepreneurial spirit and found the third time really was the charm, both literally and figuratively.
A door-to-door shoe salesman at 12 years old and the owner of a fitness club in Eureka Springs, AR at 20, Kennett also worked in construction and real estate before he found his real passion sharing and proclaiming the Word with T-shirt messaging. A loan from his brother, a printing machine in his parents' home and a little "dumpster diving" for boxes to ship his products proved to be stepping stones to the success of Kerusso, which in Greek means "to proclaim."
Some 14 million T-shirts and counting, Kerusso now sits on a 65-acre campus with three buildings and 100 associates in Berryville, AR. The company added other apparel items in the 1980s and then branched out into full lines of Christian-themed products with gifts and accessories in 1994. Faith Gear,™ the Kerusso line of jewelry which debuted in 1995, incorporates a three-dimensional and multi-media design strategy, and includes leather, metal and other features that surprise and delight customers. To date, Kerusso has shipped more than one million pieces of jewelry, with Faith Gear sales being comparable to Kerusso's "Top 20" T-shirt volume. Addressing the unique needs of the c-store market, the immediate success of Faith Gear jewelry in independent retail outlets is thought to be the direct result of Kerusso's relevant Christian messaging and lifestyle products.
While Christian products in secular retail outlets might seem to be a stretch, they have been a true marketing success for Kerusso. Christian and inspirational products account for more than $4 billion in annual retail sales, according to Curtis Riskey, executive director with the CBA Association for Christian Retail. Proprietary market research studies, along with Newsweek reporting eight out of 10 Americans say they are Christian, helped set the direction for Kerusso's expansion into the mainstream market. Dee Seehorn of the Pine Country Gift Shop & Restaurant reaffirms the premise, stating, "Kerusso merchandise outsells everything else I have in my gift shop. It's inspiring to see Kerusso products sell so well, and I hear daily compliments from my customers about their products."
No Christian entrepreneur would be the real thing without giving back. In Kerusso's case, it has supported charitable endeavors like the post 9/11 American Red Cross and Salvation Army relief funds, Haiti earthquake relief, Katrina hurricane victims, Joplin and Tuscaloosa tornado victims, shelters, prison ministries and churches. Compassion International, an organization that helps impoverished children around the world, has been Kennett's long-standing, preferred charity. The organization has already received more than $375,000 in donations from Kerusso's "Live for Him" campaign and other marketing initiatives. Now, Kennett has earmarked the proceeds from his recently published commemorative book on T-shirt evangelism for this organization. "Change Your Shirt. Change The World!  How Ordinary People Are Using Christian T-shirts to Share Their Faith – And How You Can Too!" is a 192-page book of history and devotionals by Kennett and Christian artists and authors. "Part of it is biographical, my story growing up, and how I came to have faith in God," states Kennett, "how I went from child atheist to worldwide preacher of the gospel." As winner of several industry awards and a four-time recipient of the Inc. 5000 "fastest growing private company and the superstar entrepreneurs that run them," Kerusso keeps on doing what it does best. In the 2011 Customer Study of Christian Book Association member stores, Kerusso dominated all nine categories of the survey: Supplier Preference, Merchandising System, Sell Through, Customer Service, Pricing & Promotions Offered, Design and Style, Fulfillment Turnaround, Accuracy and Ease of Ordering, Field Rep Knowledge and Customer Service, and Telephone Sales.
What does the future hold for Kerusso? "We just plan to keep on doing what we're doing," Kennett says. "It's been an amazing journey that's flown by over the years, and I'm grateful to our retail partners and all the people here at Team Kerusso who have helped me share my vision."
For more information:
Kerusso Apparel & Gifts
402 Hwy 62 Spur
Berryville, AR 72616
Toll Free: 800-424-0943
Tel.: 870-423-6242
Website: www.kerusso.com