ASD Marketweek recently wrapped up their first of two trade shows for 2017. From March 19th – March 22nd ASD hosted over 45,000 total attendees from over 92 countries at the Las Vegas Convention Center. SJT Enterprises, a longtime exhibitor at ASD Marketweek, reports a busy and successful show for retailers and exhibitors alike. SJT Enterprises specializes in personalized magnets and handmade wooden wall décor.
Tim Smith, president of SJT, says this ASD Marketweek was one of their strongest ever. "The show started out slowly in our section of the North Hall of the Las Vegas Convention Center, but then by day two we were slammed," says Smith. "People love inexpensive wall décor and our products sell really well. We have by far the largest selection. Retailers also really like that we are made in the USA."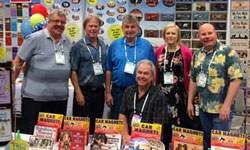 Smith says many of his sales reps from across the country attended ASD Marketweek with him. However, despite the large staff there were still many times retailers were waiting in the aisle to write orders. Their products and company are a well-known favorite of many show attendees.
SJT Enterprises is preparing to showcase their products at the next ASD Marketweek trade show, July 30th – August 2nd at the Las Vegas Convention Center. In the meantime, retailers can view SJT products at www.ThousandsofSigns.com.