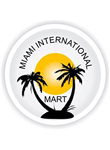 It's March – which means Spring Break is in full swing in the Sunshine State of Florida. While many of us have happy memories of family trips and college good-times, just because you're a busy retailer doesn't mean you can't take a quick trip down to the Miami area to combine a bit of R&R with some fantastic wholesale sourcing.
Miami International Mart will hold their next wholesale show on April 23-25th, 2017, with three additional sourcing events over the course of the rest of 2017. What can buyers expect to see in their permanent show floor exhibitor collections? Just about any kind of electronics, housewares, health & beauty products, party supplies, disposable goods, closeout deals and more can be found ranging across these vast product categories.
Show owner Shaul Hadad, tells Independent Retailer, "We have over 25 vendors that exhibit at our show who have warehouses and showrooms all over the country. We are their Miami showroom year-round and host them 4-5 times annually for tradeshow events that attract customers from all over the US, Caribbean, Latin America, and Haiti."
This busy and well organized show offers spacious showrooms that allow the suppliers to display their wares in every category, which encompass great selection and deals in Linens, Toys, Hosiery, and Food & Candy categories, just to name a few. For any retail buyers who may be looking for closeout lots, many are available at the Mart of Miami shows, and prices can be negotiated based on products ordered.
As an added incentive to head to Florida for one of the upcoming shows, to be held in April, June and September, show management has negotiated preferred buyer rates just for show attendees. Simply visit the show's web site and click on the HOTELS link to view the substantial list of prominent hotels located nearby. Many of these hotels have amenities that would tempt any retailer to take a few days to head to Florida!
Mart of Miami prides themselves on their overall relaxed feeling, all while offering a productive venue for buying and selling. "Our show is busy without being overwhelming. Buyers get the one-on-one attention they need and enough time to negotiate and buy with detail," continues Hadad.
Buyers may register online in advance at www.martofmiami.com and check out the additional show details.