By Kevin Zimmerman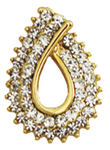 There is one main reason that jewelry wholesaler Bella's Joias Miami has been flourishing for some 25 years, according to marketing director Maribel Valcarce: "Everything we sell has been made in Brazil." While that country is only 11th in terms of the world's gold-producing nations, Valcarce says the craftsmanship involved far outpaces that of gold jewelry from China, the world's top gold-producing country. "China is cheaper," she admits, "but it is not as good quality. Informed customers will always choose Brazil over China.
Bella's Joias owns a jewelry manufacturer in Brazil, which sends its inventory to the company's seven stores in the Miami area. It specializes not only in gold-layered, but also in silver-layered and stainless jewelry. Fusing real gold to an underlying metal, such as jeweler's brass or silver makes gold-layered jewelry. As with most suppliers, Bella's Joias uses 18 KT gold, though some stores offer 22 KT and 24 KT gold-layered jewelry. The electrochemical process that bonds the gold and the underlying, supporting material is a permanent one.
Valcarce notes that many in the jewelry industry believe that the gold-layering process represents the future of the industry. Considerably more affordable than solid gold jewelry while still looking great, gold-layered jewelry is also superior to that old standby, gold plate; the latter can chip and fade over time, leaving its wearer with a poor-looking piece. Gold-layered jewelry, on the other hand, is more durable than gold plate, and can last a lifetime if it is properly taken care of. The layering process is a permanent one, and it is significantly up to 15 times the thickness of gold plate. In addition, the underlying metal (usually brass) provides strong support to combat everyday wear and tear.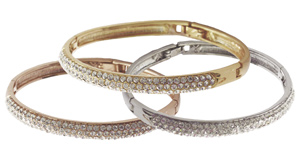 Bella's Joias also sells a full line of products featuring cubic zirconia, as well as rose gold, rhodium and gold pieces. But it is its gold-layered line that is currently its focus, Valcarce says. The company's Miami location also plays a key role in attracting customers from overseas, particularly those from Latin America and the Caribbean. "Our main store is just five minutes from the airport," she says. "It is not uncommon for someone to fly in, get a car, come over and pick up $500 or $1,000 worth of merchandise, then head back to Barbados or wherever they have come from — they do not even stay in a hotel."
Declining to draw a distinction between which of its products — rings, necklaces, bracelets, earrings and the like — is a leading line, Valcarce notes that the company sees a "definite jump" in sales around Christmas, Valentine's Day and Mother's Day — "the holidays you associate with buying and giving jewelry." Bella's Joias requires a $200 minimum order from manufacturers and wholesalers, and offers free shipping for orders of at least $300.