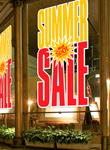 If your company has been in business for a century-plus, you must be doing something right. Such is the story at B&B (Banker & Brisebois Advertising), which has been in business since 1912. The company started out preparing syndicated advertising services primarily for furniture stores and manufacturers. In the early 1950s syndicated signs were added to their lineup in order to help clients better coordinate their sales and special events. For many retailers, especially those in smaller towns, finding a source for attractive signs that were affordable was a major problem. By mass-producing signs, B&B was able to keep production costs at a minimum and pass the savings on to their retail accounts. Most signs come in two sizes … 30″x60″ and 14″x30″. Some of the larger signs are available at closeout prices, and the smaller signs are discounted when purchased in sets of 10.
At the start all B&B signs were printed using a silkscreen process on regular paper. That changed when B&B experimented with a new process which was somewhat more expensive than printing on paper, but the signs looked more attractive and lasted considerably longer. In addition, the new signs were silkscreened on a heavy-duty, "see-thru" vinyl. Besides looking sharper and being easily rolled for storage and use again and again, the vinyl signs stayed fresh looking long after the paper signs called it a day. Shortly thereafter, B&B stopped printing their syndicated signs on paper and switched to "see-thru" vinyl exclusively. B&B still designs custom signage, for printing on many types of material. However, that cost is substantially higher than the ready-to-ship signs.
There are more than 100 sign choices, all shown on B&B's website. Or, a phone call is all it takes to get a complete set of sign brochures. All the signs are professionally designed to catch the attention of pedestrian and drive-by traffic. For many independent retailers, the signs have proven to be one of the most effective and cost efficient ways to advertise.
The best way to order signs is to predetermine the signs you will be using over an extended period and have them shipped at one time. Not only will that save shipping costs but you'll be prepared in advance for all of your promotions, and it makes it easier to stick to a defined advertising schedule. It also eliminates a lot of last minute pulling things together.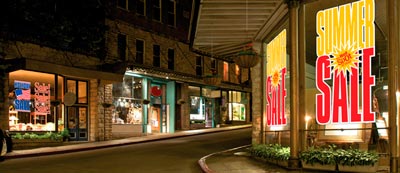 One of the mistakes some retailers make is ordering signs to promote one sale or event, and intending to order more signs for their next big event. However, what eventually happens, the first signs look so good they stay there for months on end. That's not good. The better way is to build a reserve of signs by seasons and events so you can rotate them on a regular basis and always look like something exciting is going on. Instead of hoping something will happen, you can make it happen…and you can make money along the way.
Another mistake some dealers make is thinking they only need window signs and not ordering additional signs to have strategically placed inside the store. What happens is the window signs pull people into the store just like they are supposed to do, but once they're inside they are apt to quickly forget exactly why they ducked in. For a little bit more, you can spread the excitement all over the place. The smaller 14″x30″ signs are ideal for that … as well as for use in smaller windows. If you're skeptical, try smaller signs once and see how it works. It could be another one of those elusive magic bullets for making more money!
If you are fortunate enough to be located in a reasonably good traffic area, and you have windows that could be pulling in customers like a powerful magnet, B&B is waiting in the wings to assist you with your signage and answer any questions.