By Kevin Zimmerman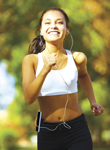 It is a smartphone world; we just live in it. But that does not mean we have to live in it uncomfortably. Such is the concept behind CG Clip N' Go, which keeps your smartphone and eyewear case at your fingertips by attaching to your purse, sun visor or belt. The clip is removable, rotates 360 degrees and doubles as a kick stand for use in portrait or landscape mode for your cell phone. "I am an attorney, a wife, a mother, and I own another business as well," explains company founder Dawn R. Tezino, explaining that the other business is a real estate company that she started in 2007 and has continued to grow. "I am always multi-tasking, and I am always on the go, traveling, heading to court for hearings and trials, and running the usual errands that go with the territory. And I like to have my cell phone, sunglasses or whatever within easy reach.
"The existing clips already out there are just too bulky," she continues. "Plus, I am one of those 'girly-girls,' I like to have different colored cases for a number of reasons, and the Clip N' Go can be attached and re-attached easily." Being marketed as "the ultimate accessory for active people on the go," the product, which took Tezino over a year of thought and planning to design, protects one's cell phone and eyewear because it conveniently attaches to the case the user already owns, attaches to all brands of cases, allows quick and easy access and may help reduce car accidents. It attaches conveniently to several different surfaces inside the car, as well as keeping eyewear protected and within reach, thereby reducing distractions while driving.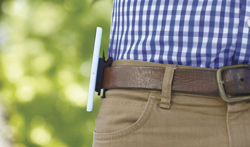 Lest one take Tezino's "girly-girl" remark too much to heart, she is quick to point out that she has received plenty of interest from potential male customers as well. "I thought it would appeal to mostly women when I was developing it," she explains. "But now I am getting a lot of men too. Everyone wants to feel that they look perfect. My husband is a minister, so he wears suits a lot," she says. "With the Clip N' Go, he does not have to go out with that big bulky clip on his belt."
With other products already on the market with a trademarked "Clip N' Go" name, Tezino decided to add "CG" to her product's name. Not only do the initials stand, obviously, for "Clip Go," but they also refer to the name of her son: Christian Gerald. Tezino is planning to launch the product in June, and is currently in discussions with a number of manufacturers to finalize the design. Introductory pricing will be set at $19.99, she says. Interest, she adds, has been high, especially at trade shows where she's demonstrated its durability and versatility. "I really received some rave reviews," she enthuses. CG Clip N' Go products can be ordered directly from the company and on the company's website. The product sells for $19.99 retail.