By Kevin Zimmerman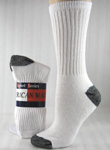 "One can never have enough socks," remarked Hogwarts headmaster Dumbledore in Harry Potter and the Sorcerer's Stone by J.K. Rowling — a philosophy that is certain to be shared at Alabama Wholesale Socks, Inc. The family-operated hosiery mill strives to provide its customers with high quality, low prices and fast shipping on a massive, ever-expanding variety of socks for men, women and children, says company president Tommy Evans. The store is also increasing its efforts in the customized socks business. "I grew up in the 'Sock Capital of the World' [Fort Payne, AL]," he says when asked how he got into such a business. "I learned a lot of the ins and outs that way."
Working as a sock supplier, Evans was eventually persuaded by one of his clients to buy his company, and in 2002 Alabama Wholesale Socks was born. "We migrated quickly into manufacturing, because we could not get the quality that we were looking for," Evans says. This was at a time when a lot of people were going out of business, as the effects of the 2001 recession were still being felt. AWS was able to purchase manufacturing equipment at an agreeable price and began its rise to prominence.

Located in Sylvania, AL – just a few minutes away from Fort Payne – AWS currently stocks 300 to 400 different SKUs of men's, women's and children's socks, as well as such other items as diabetic socks – non-binding and non-elasticated socks designed so as to not constrict the foot or leg, thermal/boot socks, athletic/work socks, quarter/golf socks, crew socks, no-show low-cut socks, pom-pom and other novelty styles and more, usually available in a variety of colors.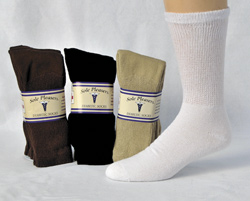 Evans notes that AWS is also seeing a boom in customized goods, such as athletic-style socks with a company or team logo on them. Evans also views the growing area of sublimation customization as "a tremendous opportunity for us. They are great for promotional needs." The process involves transferring custom designs onto socks using dye sublimation with a heat press; the technique is essentially the same as transferring a pre-existing logo or other design onto t-shirts. They can also be dyed various colors, including "tie-dye" and "camouflage."
Depending on the style, complexity of design, and availability of the necessary material, minimum orders for such customization can range from 100 dozen pairs to 1,000 dozen pairs. Otherwise, Evans says, most styles are available at a minimum of 12 pairs per order. As AWS goes through the summer, it will begin expanding its winter goods, including in the thermal/boot category. "We are always looking to expand a little bit," he notes. "We introduced our winter brand, Ruggeds, last year, which are socks made with heavier cotton goods." Alabama Wholesale Socks can be ordered through its website or by phone.