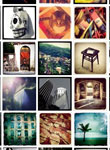 SumAll, a data visualization company, has added Instagram data to SumAll Social Metrics, an analytics tool that links a company's social activity against web traffic and revenue, revealing the return on social marketing. Now, users can track Instagram, Facebook and Twitter activity alongside their purchase transactions and web traffic data on a single dashboard. SumAll says it is looking to eliminate data silos and, in turn, present all key datasets together to form a single, unified view of business. When datasets intersect, business users can see patterns and trends that lead them to make informed business decisions about what is truly driving traffic, sales and revenue, the company says.
With more than 80 million smartphone users posting photos on Instagram, the app has touched many lives with imagery. Many of the world's top brands have long known the power of a picture, and through Instagram businesses can leverage and use photos to augment their marketing strategies. SumAll Social Metrics reveals which pictures performed well, drove more traffic or increased revenue. SumAll Social Metrics also reveals Instagram's performance when compared against other social media platforms.
"This is a huge value add," notes Dane Atkinson, CEO of SumAll. "Instagram has fast become a major piece of the marketing strategy for many social media managers. Connecting the dots from pictures to traffic to revenue is the critical piece in leveraging its role."
"Instagram has been an important marketing channel for us. Because our bikes are so colorful, visually connecting with customers has been a really powerful. The consistent engagement we see on Instragram (@pfcycles) has outshined most other social media channels," adds Jordan Schau, founder of Pure Fix Cycles. "SumAll is really starting to give us a great overview of our business, from Google Analytics to Instagram to Stripe".
SumAll's Social Metrics combine the user's full social history, and updates it in real-time. Users can slice, dice and compare their social data by interacting with the dashboard. Particular value adds for Instagram include filtering by filter, followers and advocacy. SumAll, through its free, real-time data dashboard, enables the integration of multiple data sources including Facebook, Twitter, Google Analytics, eBay, Authorize.Net, PayPal, Stripe, Shopify, Big Commerce Magento and now Instagram into one intuitive, interactive chart. SumAll can be viewed on a onWeb browser, tablet or mobile phone.