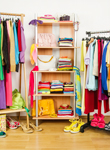 It is March, so you know what that means: summer buying season has begun in earnest, so it is time to start scoping out the hot products and trends for this year's apparel and accessories. Over the past few years, retailers of all types have been watching the economy carefully for positive signs—and hopes are high this will be a strong buying season. Economists surveyed by the Wall Street Journal predicted a solid 3 percent growth this summer, which will hopefully translate into extra dollars in consumers' pockets and strong retail sales.
"Everything is getting better," says Jennifer Badik, manager at Village Originals. "Last year surpassed the previous, and we expect this year to be even better." Village Originals specializes in jewelry and natural minerals, Balinese handicrafts, and wind chimes. The key, say the experts, is to have the right products.
Hot Trends for Summer
When it comes to apparel and accessories sales over the summer, the first rule is also the most obvious: nothing sells during the summer like summer itself. After a long winter, consumers are ready to snap up staples of warmer weather, including sunglasses, anklets, flip-flops, and accessories that would normally be covered up by winter clothing. "The sandal is very popular in the summer, especially in the U.S., because the buyers are always selling these for the beach, picnics and outdoor shopping," says Mahmood Ali, owner of Aersosoft, a distributor of shoes and footwear.
This same focus on seasonality is echoed by Paul Meyer, national sales manager for Cool Jewels® by Phillips. "Bangle bracelets are a hot item right now," Meyer says. "Teens and women are wearing several of them at once to make a fashion statement."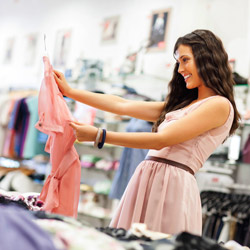 When it comes to merchandising apparel and accessories—whether it is sunglasses, shoes, T-shirts, or jewelry—the experts agree that it is critical to offer as many SKU's as possible and keep the stock fresh and attractive. For many products aimed at the summer buyer, especially the impulse purchases like T-shirts and sunglasses, people like to try them on, so an effective display would make it easy to handle the merchandise, try it on, and get a look at it. It is always a good idea to have mirrors handy in your shop, whether they are built into the displays themselves or just hanging on your wall.
Consumers are also expected to pick up on some familiar trends from years past. In terms of colors, neon and bright colors are still very popular, and Meyers is also reporting strong interest in steampunk-themed fashions, which he says were brought back by The Hunger Games franchise and its dark, brooding sense of style. At Village Originals, Badik reports a strong interest in natural minerals. "People love anything natural incorporated into jewelry," she says. "They are buying amethyst, quartz, anything natural. People are into metaphysical things and nature."
Color and contrast are also in when it comes to T-shirt sales. At Erazor Bits, which designs and creates graphic T-shirts that often feature military or police and fire department themes, owner Khalid Shehady says he is excited about the company's new line of shirts incorporating foil. "Foil has been out for years," he says, "but that is when people were creating T-shirts with huge foil images on them. But our designs are different. We are using accent foil and distressed foil to create small accents that catch the eye, but do not look totally blinged out."
Retailers Get Picky with Vendors
In addition to stocking up with the right inventory, retailers are continuing to grapple with the changing competitive landscape in their industries, which is having a profound effect on the way manufacturers, wholesalers, and distributors are doing business. Much of this new pressure can be traced back to online retailing, which exerts tremendous price pressure on many products. Brick-and-mortar retailers have fallen back on two main, inter-related strategies to deal with this.
The first is to change the brick-and-mortar shopping environment to make shopping an experience. This means paying careful attention to shop décor, merchandising and display, and ways that your store is connecting with its consumers. This is true both for retailers who rely on repeat customers and those who are beachside, for example, and count on impulse purchases for the bulk of its sales. The second is to rely more on their vendors to handle packaging, inventory management, merchandising, and other functions.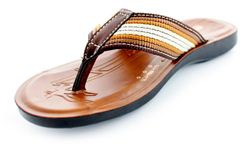 "We are seeing a major trend in vendor selection," Meyer says. "We are seeing customers pay more attention to value-added services like extremely fast shipping, pre-labeled products already on hang tags, and retail-ready packaging. Retailers are being forced to do more with less."
Wholesalers have taken notice of this and answered with a variety of retailer-friendly changes. At Aerosoft, for example, Ali says the company offers retail-ready displays that make it very easy to go from shipping box to sales floor almost instantly. "We sell a whole display of 120 pairs of sandals at a very reasonable price," Ali says. "The display is perfect for a retailer to display in their store, especially if they have never sold sandals before."
The story is the same at Erazor Bits, where the company has designed a rack program that offers retailers a turnkey T-shirt operation. "It is a beautiful acrylic display with an image library of cards you insert into the display showing different designs," Shehady says. "We have every design in this book of cards, so when you join, you get everything. It is a complete turnkey retail operation."
Ultimately, says Meyer, the most successful retailers are looking for strong partners with their wholesalers. "The price is not always the whole cost," he says. "Now retailers are looking at things like, 'How quickly will it ship? Will it come on a hangtag? Will I get what I actually ordered? How long will it take to check in?' Fortunately, we are seeing signs that this summer will be stronger than last year. Everyone is more optimistic in 2015 than 2014."