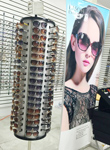 If you take a look at the average American's purse, hallway table, or front seat of their car, what's the one thing they will all have in common? A pair of sunglasses. In addition to serving as a statement and fashion accessory, sunglasses are a practical item worn for safe driving, UV protection, performance in sports and outdoor activities, and general health. Altogether, the sunglass industry is worth over 95 billion dollars, and nets over $3.5 billion in profit each year.
CNBC dubbed sunglasses as the "new lipstick indicator." Instead of having multiple shades of lipstick stashed in their purse, many women now carry multiple pairs of sunglasses. Sunglasses are an easy way for shoppers to upgrade their style for less. Especially for aspirational shoppers, luxury and designer sunglasses are typically more affordable than other designer goods. They can also be easily incorporated into everyday outfits.
Spring for Success
Almost 96 million pairs of sunglasses are sold in the US each year. Only 6 percent of sunglass sales are made online. As a brick and mortar retailer, that means you can't afford to miss out on this opportunity. Since most sunglasses are purchased in stores, shoppers are picking them up to wear right away when they can't wait for shipping, or as a spontaneous treat. So whether you are an apparel retailer, gift store, souvenir shop, pharmacy, or boutique you should be selling sunglasses. At the end of the day, the same customers who shop at your store will need to buy them. If you are not selling sunglasses, those shoppers will buy them somewhere else.
Guiding Light
Since sunglasses typically aren't a planned purchase your display needs to be light, bright, visible and welcoming. If shoppers are running in because they need a pair, they want to be able to find your sunglass display right away. If the purchase is unplanned, your display still needs to be a prominent part of your store where shoppers can see them, try on different pairs, and ultimately bring them home. Your display also needs to have flattering lighting and plenty of mirrors, so shoppers can test new styles and feel confident in their buy.
Shades for Days
Just like any other type of retail display, more variety means more sales. Every customer has different tastes, styles, and most importantly different face shapes. Having a large variety of frames and colors will ensure there is something for everyone.
In addition to different styles, don't be afraid to carry a variety of price points. Many shoppers will gravitate towards lower-end products, especially if they're after a quick buy for a day in the sun. However, many shoppers will also spend more for mid – high-end sunglasses. A large population wears sunglasses daily, and they are seen as an investment in health and eye protection. Others use sunglasses as a first step into luxury products.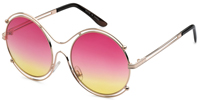 Fun in the Sun
For the past few years, Wayfarer style has dominated the industry. However, this year we are seeing a shakeup. Albert Ye, owner of Eason Eyewear has over 35 years of experience in the sunglass industry. He says, this year big, oversized frames are very popular in both round and square shapes. "Ocean and cotton candy colors are very popular. The industry is moving away from traditional black and brown. Aviators are still doing okay, but other traditional frames are seeing a decline. People really want big frames and modern colors."
More importantly, Ye says it is important for retailers to know their customers and their demographic. "You need to know what kind of customer you have, pay attention to their needs, and know what works best for your market. Some areas are very trendy. Some areas can still sell classics."
Kirk Bachelder, of CTS Wholesale, has over 25 years of experience in the industry. He says it's important to not forget about men's styles. "Sports for men are a steady seller," he says. "That doesn't change." Bachelder also emphasizes that a lot of people are willing to pay for quality. But, he says, "Variety is important. Don't go too heavy with one style to start out. Get many different styles and feel out what sells best." It's important to push boundaries and go outside of your comfort zones when it comes to selecting this season's sunglasses. Overall, a wider variety means you're more likely to have something for everyone.
With some thoughtful selection and proper set-up, sunglasses of all kinds can be a profitable addition to all retailers. For ordering details and further assistance on customizing a selection for your store, visit our various partners' websites.