By Lisa Livingston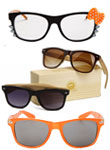 Environmentally friendly and one-of-a-kind wooden sunglasses, sported by stars such as Snoop Dogg and Beyonce, are the newest craze in fashion eyewear this year. Environmentally conscious, fledgling designers are rising to the top, and providing sustainable sunglasses comprised of a variety of woods, including repurposed skateboards. Proof Eyewear, Woodzees and Shwood are among the front-runners in this exciting endeavor that is impacting the world of fashion shades worldwide.
Furthermore, some designers go even greener and incorporate a second component of 100 percent recycled plastic joined with bamboo. Bamboo, which technically is not wood, is one of the fastest growing, most sustainable materials in the world. Wooden or bamboo, sustainable sunglasses are where it's at. Retailers of fashion accessories will be happy to note that several of the aforementioned companies do offer wholesale options for their goods.

Wayfarers evolve into new colors, patterns
Sustainable sunglasses come in several new variations of the classic wayfarer style. This is no surprise, considering that wayfarers are all the rage this year. Made famous generations ago, wayfarers today are not only available in the original black, but are also found in a variety of materials, colors and patterns.
Another trend that is shaking things up is the Ice-pop, in both entirely clear and translucent colorcast frames. Intense flash mirrored lenses that are color-coordinated with the frames make these eye catchers really pop. This hot trend is predominantly available in wayfarer and cat-eye frame shapes.

Also topping the fashion chart are clear lens sunglasses, also known as nerd glasses. These shades provide the full 100 percent UV protection found in a standard smoke tint, and are frequently found in a wayfarer style or similar frame shape, with a narrow lens height.
Feminine cat-eye frames endure time
Many of the choicest shades are in universally non-gender specific styles, which for retailers is a big selling plus. However, for ladies only, a biggie this year is cat-eye fashion sunglasses, available in numerous colors and patterns. Not just a flash in the pan, these vintage frames have proven to be an enduring look throughout several seasons. For active men, there is still a large demand for wraparound sports styles with mirrored lenses, and aviators continue to be top sellers.

With both environmentally friendly materials and updated looks that harken back decades, retailers can choose from an array of fun and fabulous sunglasses, sure to dazzle consumers in the upcoming seasons.