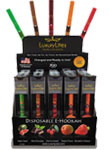 Luxury Lites provides an extensive line of high quality alternatives to traditional tobacco cigarette smoking. These include E-Cigarettes, both disposable and rechargeable, E-Hookahs and E-Cigars, as well as E-Juice and other accessories. "Our flagship product is our E-Hookah, which lasts up to 700 puffs," says Yaseen Waqar, CEO. "It has grown to be the number one E-Hookah in the U.S. because of our commitment to quality." The electronic water vaporizer is available both with and without nicotine.
New larger and rechargeable E-Hookahs
Luxury Lites just launched a larger version of its flagship E-Hookah, available without nicotine only, which lasts up to 1,000 puffs. It emits no tar, toxins or second-hand smoke. The company also introduced the first rechargeable E-Hookah on the market. "Our rechargeable version is more cost effective than a disposable ehookah," Waqar notes. "Consumers easily recharge the battery and change out the cartomizer. Kits come with one battery and five cartomizers, in five of our most popular flavors." Each refill lasts around 1,000 puffs, or 5,000 puffs per kit. Another new product line is the company's Gold Label disposable E-Cigarettes, available in full flavor, light and menthol. Less expensive than tobacco cigarettes, they have no tar, toxins or second-hand smoke, last up to 600 puffs, and can be used anywhere.
Other products include electronic Cuban cigars that last up to 1,800 puffs, have no tar or toxins, and offer the rich, traditional flavor of a real Cuban cigar; the Ego-U refillable series, with two times the juice holding capacity and three times the battery life of other E-Cigarettes for the more advanced user; and E-Juice in 15 flavors, including tobacco, menthol and fruit flavors.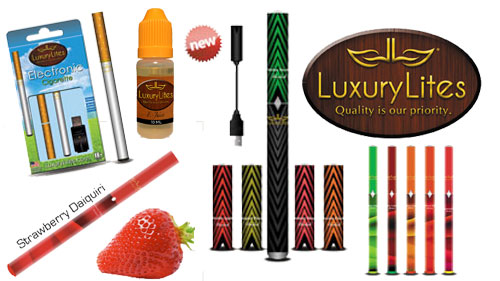 Luxury Lites' rechargeable electronic cigarettes are also available in large and small kits. The large kit contains two rechargeable batteries and five cartomizers, one USB charger, one wall charger and one car charger. The starter kit is perfect for someone who is new to electronic cigarettes, and includes one rechargeable battery, two cartomizers and one USB charger. The company will soon be introducing new XL cartomizers, which will have the largest holding capacity in the industry.
"Quality is our priority," Waqar stresses. "There are 15 to 20 companies that are trying to copy the design of our flagship E-Hookah. They can mimic the way it looks, but they cannot copy the precision and engineering of our products." Luxury Lites has a defective rate of less than one percent, whereas other companies in the industry have more than ten percent, he adds. "The way you present your product is what sells it initially, but it is the quality of the product that resells it." The company offers a lifetime warranty on its rechargeable batteries.
Recognizable branding through advertising and packaging
"Luxury Lites is recognized throughout the U.S., and people know it is a brand they can trust," Waqar continues. "Our distributors trust our products and they know they will sell. We concentrate on keeping a good brand image. Whether it is through advertising or packaging, we present ourselves as a classy brand." All the firm's products come with inviting, compact displays to accommodate limited counter and shelf real estate. "We focus on the design and aesthetics of our products. Our distributors tell us that our display boxes are very eye catching, and that our products stick out among competitors," Waqar shares. "We have also started a college ambassador program, in which we sponsor parties and other events throughout the country to increase brand recognition. A strong social media following has also led to our success." Advertising materials, including posters, brochures, stickers, calendars and door signs, are available.
Ordering highlights
Profit margins vary depending on the product, and range from 30 to 40 percent on many of the disposable items to 100 percent on kits. The minimum order also depends on the item, but Luxury Lites works with retailers of all sizes, and price is dependent on quantity. Shipping is free with wholesale orders. Retailers and wholesalers can get complete product information from the company's consumer website, and may place orders by email or phone. "A few months ago, our sales blew up, and we had more orders than we could process or produce," Waqar recalls. "We have spent the last two months doubling our production capacity, and hiring and training new staff. We are now at 100 percent, and can fulfill any orders given to us at any time."
Luxury Lites
Tel.: 1-855-235-3444
Website: www.luxurylites.com