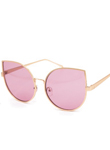 Eason Eyewear has a huge selection of excellent quality sunglasses featuring trendy designs with unbeatable prices. Last year sunglasses with big round frames and ocean color lenses sold best along with a mix of interesting shapes, such as hexagon and square. Albert from Eason Eyewear believes these styles "will still prevail this year," along with a few others.
With over 30 years of experience manufacturing sunglasses, Eason Eyewear has a good idea of what the trends will be for the coming year. They will be showcasing brand new styles such as small frames, cat eye styles, and classic sunglasses with rhinestones. "Last year metal sunglasses dominated the market," according to Albert, "this year plastic sunglasses will come back on stage." Make sure you stay up to date with the trends and stock up with the help of Eason Eyewear.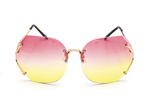 Professionalism, responsibility, and passion are at the core of Eason Eyewear. They offer not only top products, but also superior customer service. You can order from them without any hassle, guaranteed. Eason Eyewear offers custom design services and private label options; they truly give their customers the most they possibly can. Keep up with sunglass trends while staying stress-free by sourcing from Eason Eyewear.