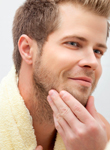 Male products are a hot market. According to Euromonitor, the global market for male grooming products is booming and projected to reach $60.7 billion by 2020. Popularity is growing and brick and mortar account for over 80% of global male grooming product sales. This large market is sure to bring you high returns on your investment.
An easy way to integrate male grooming products into your store is by marketing them as gift items to your normal customer base. We spoke to Michele Diotati, the owner and originator of Plum Island Soap Company and Alexander Gornakov from Duke Cannon Supply Co. to see what they had to say about the growing interest in men's grooming products and how to integrate them into your store.
When we asked Michele what makes these products so popular she responded that "for a really long time men secretly wanted to care for themselves and growing up they just used what their mom bought them. Now as they grow older they're developing more of an interest in products and caring for themselves." She also said men are "more empowered to care for their skin because they want to look good," and who doesn't want to look good? Michele stresses that men are "very conscious about what goes on their bodies and want natural products."
When it comes to integrating men's products into your retail store, the Plum Island Man Can™ is a great start. It's been on the market since 2005 and Michele says it has quickly become their best-selling single product. "If you don't know what to give someone, it's perfect." Michele recommends marketing the product to gift givers, and when the man receives the gift, he will come back to the store to "purchase the products individually." Having a men's grooming gift set is a great way to bring these items into your store and broaden your offerings. The men who receive the Man Can™ will come back to buy the products themselves, build the demand, and increase your customer base.
Alexander from Duke Cannon Supply Co. recommends creating a "man nook" in your store to attract more males. He says, "Most of our retailers introduce men's products because women are asking for it. Guys will come in with a female companion and they're bored." Creating a "men's destination corner" with Duke Cannon's bundles or fixtures shows clearly that there are men's products in your store. Alexander agrees with Michele that grooming products are a great gift item; "men's products offer an opportunity to get someone something he can use and then repeat purchase." Duke Cannon adds authenticity and humor to their products. "Big Ass Brick of Soap" is the product they're known for and it is the "most giftable item," says Alexander. "It's bought as a gift, then the guy falls in love with it." The humor and name behind the products make people want to share them. "The coolest reaction we see is someone saying 'oh this is funny' and passing it off. Consumers want to share the product with someone else." Having a designated area for men's products will attract wandering customers as well as lure in gift givers searching for the perfect gift.
Whether your target customers are men or women, introducing male grooming supplies to your product line is key to developing and growing your business. The Plum Island Man Can™ and Duke Cannon Supply Co.'s products are a great way to start. Take their advice by incorporating gift items and watch as men return to your store to buy products for themselves.